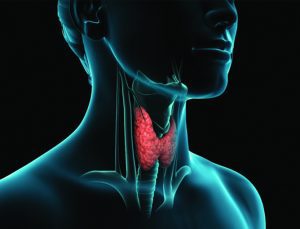 Located at the front of the neck, on both sides of the windpipe and just below the Adam's apple, the thyroid gland is a small, butterfly-shaped gland that affects your body a lot more than most people think. The thyroid produces hormones that regulate the body's metabolic rate, as well as some heart and digestive function, muscle control, brain development and bone maintenance. A normal thyroid gland is not usually visible or felt from the outside. Lumps or nodules can sometimes appear in the area where your thyroid is located.
These are usually comprised of an overgrowth of cells and, most often, are benign – not cancerous. However, about one in 20 of these nodules is malignant and classified as thyroid cancer.
Currently, almost 60,000 Americans are diagnosed each year with a form of thyroid cancer, according to the National Cancer Institute. However, the death rate from thyroid cancer remains low compared to most other cancers. With a five-year survival rate of nearly 97%, and a 100% survival rate if detected early, the vast majority of patients with thyroid cancer can be treated successfully.
The Role of Gender, Age and Genetics in
Thyroid Cancer
While scientists do not yet understand the reasons, women are diagnosed with three of every four thyroid cancers and 82 percent of these women are Caucasian. Thyroid cancer can occur at any age, but unlike other cancers that most often occur over the age of 50, about two-thirds of all thyroid cancer cases are found in people between the ages of 20 and 55.
Scientists have identified several gene mutations that can be inherited and play a role in thyroid cancer. If any of these apply to you, ask your physician about getting genetic counseling:
• You have a family history of thyroid and/or other cancers.
• You get thyroid cancer before age 45.
• Your type of cancer is MTC (Medullary Thyroid Cancer)
• You have thyroid cancer and another type of cancer.
Aggressive Thyroid Cancer is Increasing
A March 2017 study by the National Cancer Institute (NCI) published in the Journal of the American Medical
Association (JAMA) found that while most thyroid cancers are not life threatening, the death rate for a
particularly aggressive form of the disease – advanced papillary thyroid cancer – has increased. In fact, over the past four decades, the overall incidence rate for all types of thyroid cancer has tripled in the United States, causing quite a debate among researchers as to what is causing this startling surge. As we learn more about what drives thyroid cancer on a molecular level, we will have answers to that question in the future.
Some possible reasons cited in the JAMA study for an increase in the number of thyroid cancer cases include:
• Better diagnostic tools that are able to detect much smaller tumors that likely would not have been serious
• A rise in obesity rates that are linked to an increase in several types of cancer
• Certain chemicals, such as flammable-resistant compounds in clothing and furniture, some pesticides  and other chemicals found in foods and plastics
World-Class Cancer Treatment Close to Home
Florida Cancer Specialists & Research Institute (FCS) has put together a network of expert, board-certified physicians who bring world‐class cancer treatments to local communities, both large and small, across the
state. With nearly 100 locations, FCS is the largest independent oncology/hematology group in the United States. That status puts the practice on the leading edge of clinical trial research and gives FCS physicians access to the newest, most innovative treatments.
Florida Cancer Specialists treats patients with all types of cancer, and offers a number of services, such as an in-house specialty pharmacy, an in-house pathology lab and financial counselors at every location, that deliver the most advanced and personalized care in your local community.
Bonita Springs
9776 Bonita Beach Rd SE, Suite 201A
Bonita Springs, FL 34135
Naples – Goodlette
1100 Goodlette Road
Naples, FL 34102
Naples – Napa Ridge
6360 Pine Ridge Road,
Suite 201
Naples, FL 34119
Naples – Sierra Meadows
8350 Sierra Meadows Blvd
Naples, Fl 34114
Naples West
681 4th Ave North
Naples, Fl 34102
For more information, visit FLCancer.com