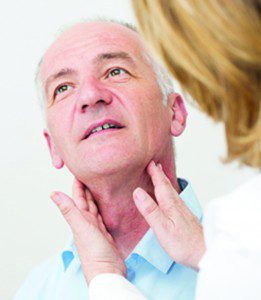 People who have trouble swallowing, a problem called dysphagia, also often experience speech problems. It happens when the disease damages the nerves in the brain and spinal cord that make these tasks happen.
For some people, these problems are mild. Others have a harder time dealing with severe symptoms. But treatments and techniques can help you improve your speech and make swallowing easier.
When faced with bothersome voice, speech or swallowing disorders, you simply want relief. Lehigh Regional Medical Center has highly trained speech therapists who can help restore your speech and swallowing capabilities.
Speech Therapy
Speech therapists evaluate, diagnose and treat patients with a wide variety of conditions that affect oral motor skills, swallowing, and speech and language abilities. Lehigh Regional Medical Center's speech therapists work closely with neurologists, ENT ( ear, nose and throat) doctors and other specialists to thoroughly evaluate patients and treat a variety of conditions, including:
• Cognitive communication disorders, including memory and problem-solving difficulties
• Language disorders, such as aphasia
• Lisping or stuttering
• Motor speech disorders, including dysarthria and apraxia
• Speech conditions resulting from Parkinson's disease and multiple sclerosis
• Swallowing disorders, such as dysphagia
• Voice disorders, including dysphonia
Speech and swallowing therapy treatments
Lehigh Regional Medical Center's speech therapists provide education, support and treatment strategies to improve communication and swallowing, utilizing a range of treatment options such as:
• Cognitive retraining, following stroke or other neurological impairment
• Customized exercises designed to strengthen muscles used in speaking or swallowing
• Electrical stimulation, such as VitalStim therapy, to improve swallowing ability by retraining motor nerves in the throat
• Lee Silverman Voice Treatment (LSVT), to improve communication and quality of life for individuals with Parkinson's disease
• Nutrition or diet modifications
• Recommendations and training for communication devices
Lehigh Regional Medical Center offers a comprehensive range of speech and swallowing services for individuals from pediatrics through geriatrics. Our speech therapists provide customized treatment plans to address each patient's unique challenges, and offer valuable information and encouragement to support each individual's goals.
What does speech & swallowing rehabilitation involve?
Our speech-language pathologists will evaluate the specific needs of the patient and select a technique or a combination of techniques to serve the individual's needs.
Techniques can include, but are not limited to the following:
• Articulation improvement
• Aphasia/Language therapy
• Cognitive retraining for memory and attention as well as organizing and planning
• Computer aided speech or alternative non-vocal communication
• Swallowing therapy/modified barium swallowing exam
• Stuttering/fluency
• Voice improvement
• Patient and family education
Speech and Swallowing Rehabilitation Therapy
The speech-language or swallowing evaluation is completed on a one-on-one basis and can typically last for one hour. If treatment is recommended, follow up visits range from 45 -60 minutes in length. The duration and frequency of treatment ranges for each individual person and will be determined by the evaluating speech therapist.
You'll receive a thorough evaluation and a personal treatment plan, including therapy for speech, language, cognitive, voice, stuttering and swallowing issues.
These issues are often associated with voice mechanisms, swallowing mechanisms, or neurological, physical or functional changes in the brain. Your therapist can help you take steps toward improvement.
There are many options for the treatment of speech and swallowing problems.  The selected treatment will be based on the results of your evaluation.
For more information about the options available for treating speech and swallowing problems call 239-303-0495 today to schedule a consultation.
Lehigh Regional Medical Center
239-303-0495