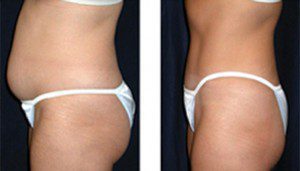 Lipo Light Naples is privileged to be the first aesthetic practice to exclusively introduce a breakthrough technology to Southwest Florida – Lipo Light! The Lipo Light, a non-invasive body contouring system, is a red light based system for body sculpting, contouring and lymphatic drainage, and visibly reduce inches around the body.
How Does It Work?
The Lipo Light process enables fat cells to release fatty acids and glycerol which are then burned off during exercise, enabling faster results in the gym after each treatment. This state of the art LED Light Therapy causes fat cells to have an increase in pore size therefore allowing the contents to pass through the lymphatic system. This is similar as changing a grape into a raison.
Fat Cells Collapse
Due to the fact that Light Therapy is non-invasive, almost everyone can benefit from this treatment. Up to sixteen pads can be placed directly on the skin for 20 minutes where a specific wavelength of light causes fat cells to essentially collapse. There is no bruising, swelling, burning, pain or anesthesia required. The treatment is not uncomfortable or painful; it just  requires  20 minutes  of  your time. Many patients describe  the  sensation as pleasurable, reminding them of a hot stone massage.
A Go To Therapy for Many Celebrities
This cellulite-busting treatment can help you lose up to 6 inches after only 10 treatments, making it a go to therapy for many celebrities. Some celebrities use the treatment to boost their workouts while others use it to smooth cellulite and tighten skin. Lipo Light is ideal for those wishing to lose some inches and tighten up. This non-invasive technology has an excellent patient outcome and is a wonderful way to stay looking great naturally.
LIPO-LIGHT
1575 Pine Ridge Rd Suite #6
Naples, FL 34109
Phone: 239-331-5886
e-mail: LipoLightNaples@gmail.com
www.lipoLightNaples.com