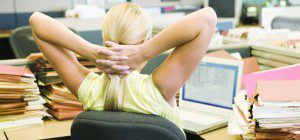 Most people have had the unpleasant experience of dealing with pain. Regardless of the cause or condition, all individuals are seeking the same goal: relief. Massage therapy can ease the tension of pain and provide relief for a variety of conditions. A common source of pain in the upper and lower back, neck, shoulders and wrists can be attributed to the increased use of technology, such as computers, laptops, tablets and smartphones. These electronic devices hinder the user's ability to maintain proper spinal alignment which will ultimately cause harm to the body.
A recent study has determined that people spend approximately five hours a day using a computer, tablet or smartphone. If you work in an office setting, the use of technology on a daily basis is greatly increased. Many companies work with a variety of technologies and this often requires implementing multiple electronic devices simultaneously. Consistent use of technology can be the source of improper posture and causes overuse of the muscles in the neck, shoulders, back and wrists, which will potentially cause pain.
Technology in the workplace produces a variety of issues, including muscle weakness, carpal tunnel syndrome, cubital tunnel syndrome, fatigue and soreness. Your posture is likely the culprit to a majority of your pain. Poor posture can cause pain which may radiate to other areas of the body resulting in trigger points, which are tight areas within a muscle caused by muscle overload. Whether you are using technology in a work-related setting or for pleasure, it is important to maintain proper posture in order to avoid overusing and injuring muscles.
If the majority of your electronic device usage is within an office setting, it is important to remember that the arrangement of your office will set the tone for how the body is positioned throughout the day. The implementation of proper office ergonomics in the workplace can create a more suitable environment for your body. Jill Shay, Licensed Massage Therapist at Massage Envy Spa Coconut Point, recommends attempting to change your body position for a portion of the day. "If the body stays in the same spot for too long, it can cause pain in different areas. Many of our clients who are on the wellness program spend half of their work day in the office using an exercise ball instead of a chair. The best way to avoid pain is to mix up your routine and make sure your body doesn't get used to the repetitive motions of your day."
The correct positioning of your desk, chair, keyboard and monitor will encourage proper posture. To avoid any neck strain when working at a computer, ensure your computer monitor is level with your eyesight. "If  possible, try to stand for some time at your desk, just don't lock your knees," Shay said. "It's also important to stretch throughout the work day, because the change in motion will help to relieve strain on the body."
The use of smartphones and tablets also creates a variety of complications for the body. Neck and back pain becomes common when using these devices because the head is turned down toward the screen and the body is often hunched over, leaning back or resting to the side. In addition, holding the smartphone or tablet up to view the screen can cause shoulder strain and encourage inappropriate posture. In addition to taking daily measures to prevent pain and stiffness, it is important to avoid creating permanent damage by taking the time to care for your body with Massage Therapy.
Massage Envy offers specialized massages to ease the pain of technology-related injuries. A variety of services are available, including trigger point therapy, deep tissue massage, cranial sacral therapy and hot stone massage therapy. These massages relieve the pain of symptoms caused by carpal tunnel, improper posture, upper and lower back pain, neck pain, stiff shoulders and poor circulation. If you are looking for a targeted approach to healing your pain, deep heat muscle therapy sessions are also available, which use a warming oil to allow for deeper penetration into the muscle tissue using less pressure. These methods can be focused on the neck and back, legs and feet or hands and arms.
Aside from providing stress relief, massage therapy also relieves aches and pains of overused muscles by easing tension and will help to heal the damage of technology-related injuries. After a long day at the office, consider getting a massage to alleviate the aches and pains that have accumulated throughout the day. A massage therapist can help work out your problem areas by relieving stiff muscles, fatigue and postural imbalances, leaving you feeling completely rejuvenated. While massage can be used to relieve pain after injury, getting regular massages can prevent future injuries from occurring.
Massage Envy's Licensed Massage Therapists use advanced techniques including Trigger Point Therapy, specifically designed to alleviate pain through cycles of isolated pressure and release. Repeated motions or staying immobile can cause pain in specific trigger points, such as the neck or back. Licensed Massage Therapist, Jill Shay says that these trigger points can affect other areas of the body as well. "Pain can originate in the back and because the neck is connected closely, the pain can radiate to another trigger point in the neck causing more pain." Trigger Point Therapy is a slower, more fluent massage where therapists can provide a customizable amount of pressure and the outcome is a significant decrease in the amount of pain in just one treatment. On a regular basis, it helps naturally manage pain and stress from chronic injuries or conditions.
The Wellness Program at Massage Envy Spa will allow you to enjoy a variety of therapy sessions while receiving the care and attention that your body deserves on a monthly basis. Wellness Members have the opportunity to enjoy a one-hour massage session included in their monthly membership fee, as well as additional massage and facial sessions at a low membership rate.
Massage Envy offers wellness programs tailored to each individual client's needs. The massage therapists at Massage Envy can help you create a Personal Wellness Plan that will work with your schedule, level of activity and budget. To find your nearest Massage Envy Spa location, visit www.massageenvy.com/regions/FL/Southwest-Florida.
Massage Envy Spa has locations in Cape Coral, Fort Myers, Estero and Naples.
www.massageenvy.com/regions/FL/Southwest-Florida
239-274-3689