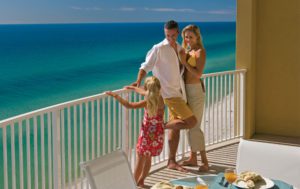 The reason we hear so much advice on wearing sunscreen, sunglasses, and avoiding over sun exposure between 10:00 am to 4:00 pm, is due in large part to the sun's harmful UV rays during the time when the sun is the highest in the sky. But just because it's darker, cloudier and cooler, that doesn't mean it's any safer.
UV radiation has multiple levels; for example, UVC rays are the most harmful to the skin and eyes, but the ozone layer blocks many of the rays. UVA rays play a huge role in causing skin damage and aging. The wavelengths of UVA rays are long and are therefore less harmful than UVB rays. UVB rays are extremely damaging to the skin and eyes and can cause cancer. UVB rays are shorter wavelengths and consequently can even penetrate through glass, so while driving in a car, or sitting by a window at work, the UVB radiation can harm you. It's best to always protect yourself by wearing sunscreen and protective clothing.
Skin Cancer: Is any Amount of Tanning Safe?
One in five people develops skin cancer. There are different types of skin cancer, and melanoma is by far the most harmful of them all. Every hour a person dies of melanoma, and this year alone, over 132,000 new cases of melanoma will be diagnosed.
Just like there is no small amount of cocaine that is good for you, there is also no small amount of tanned skin that is good for you. When the skin becomes tanned, it's due to damage caused by UV radiation at the cellular level. No tan is safe, and that includes UV radiation from tanning beds. Despite what you might hear from tanning bed business owners or advocates. The tanning bed business is a 2.5 billion-dollar business, and with that comes a lot of false advertisement and marketeering.
Shouldn't I get a Base Tan to Avoid a Burn?
One of the biggest lies out there is that getting a base tan before a vacation, boating, or beach outing is safe because it helps you not to burn. This is completely false. All outdoor and indoor tanning is cumulative and causes permanent damage.
According to the Skin Cancer Foundation, people who first use a tanning bed before age 35 increase their risk for melanoma by 75 percent. Along with age spots, melasma, hyperpigmentation, and wrinkles, tanning causes skin cancer. The best way to look bronzed is by a sunless tanning lotion or spray and applying ones that are made of natural, chemical-free ingredients is best.
Sunscreen is imperative! Wearing a broad-spectrum SPF is critical even in the wintertime. Just because the daylight hours might be cloudier or darker in some cases, the sun's UV radiation does not change.
How to Protect your Skin
Wearing a quality broad-spectrum sunscreen with both UVA and UVB protection is the first step. However, sunscreen must be reapplied every two hours, and if you are sweating or in the water, you must reapply it more frequently. Here in Florida, where it is usually warm in the winter, covering exposed skin with light-weight long sleeves or pants and opting for those with an SPF is ideal if you are spending a lot of time out in the sun, at an event, or on the beach.
If you're enjoying a leisurely day at the beach, sitting under a shaded area like a tent, umbrella or pavilion is key to maintaining healthy skin. In addition, a broad-brimmed hat will protect your head, part of your neck and chest, and wearing sunglasses will protect your eyes from ocular melanomas as well.
There are so many choices and options when it comes to keeping skin healthy and protecting our skin from the sun's harmful rays. Consequently, A small investment of your time can help save your life. On average skin cancer screenings take about fifteen minutes. These few minutes of your time can potentially prolong years to the health of your skin and life.
A dermatologist can diagnose up to 3,000 different skin disorders. On a regular basis, you should have a screening at least once a year. And, because some forms of skin cancer grow very rapidly, if you are experiencing any new types of lesions, bumps, moles that are of concern, you should schedule a dermatology appointment immediately.
Dermatology Solutions is here for all of your skincare needs. They continue to provide the highest quality dermatology care, cosmetic dermatology, and now Mohs surgery to the community of Fort Myers, Florida and surrounding areas. Their office specializes in skin care to help you attain healthy and beautiful skin. They evaluate and manage patients requiring medical and surgical care for cutaneous disorders and cosmetic dermatological procedures. Their team of dermatologists comes with years of expertise in dermatopathology and minor surgery, as well as evaluating the full spectrum of skin disorders.
Please contact Dermatology Solutions today at 239-694-7546.
239-694-7546
www.dermatologysolutions.com
14071 Metropolis Ave
Ft Myers, FL 33912