By Thom Braun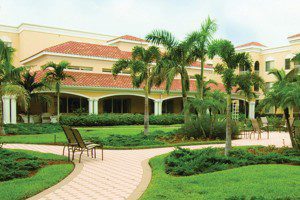 Older adults looking to continue their lifestyle while enjoying a shared sense of community may find a senior living community ideal.
Studies show that people who have strong relationships with others are at lower risk for illnesses including heart disease and stroke and seniors with the most active social connections had a 70 percent reduction in the rate of cognitive decline, compared with their less social peers.
In fact, the book, "The Longevity Study", reinforces this finding. Authors Dr. Howard S. Friedman and Dr. Leslie R. Martin examined an 80-year long Stanford University study of 1,500 people to find lessons on who lives a long, healthy life and why. The research indicated that those who joined social groups, participated in hobbies and strived for a socially richer and more productive life significantly increased the odds of a long, healthy and happy life.
Robert V. Klein, a resident at The Carlisle Naples, selected the luxury resort-style community in part because he wanted more opportunities to socialize with his peer group while expanding his circle of friends.
"Many of my closest friends passed away," explained Mr. Klein, who was involved in the fashion industry and real estate for over five decades and also served in combat infantry during WWII. "My wife and I had a full and active life and we wanted to continue that lifestyle."
After moving to the community, he admits that he initially missed the hustle and bustle of owning and managing his business. However, after seven days visiting one of his three daughters, he quickly realized he didn't miss the maintenance and daily burdens and was looking forward to returning to The Carlisle.
"The Carlisle is where I belong. It's great not having to follow a set schedule," he said. "I don't have to do anything if I don't feel like it. Whether I choose to enjoy a book in the library or meet up with neighbors for a friendly game of poker, it's my decision.
It's typical to find Carlisle residents participating in any number of activities within the clubhouse, the central hub of the community. It has the look and feel of a resort hotel while maintaining many of the traditions and comforts of home. A spacious living room with cocktail lounge is a continual gathering spot for residents.
Mr. Klein especially enjoys meeting up with fellow residents in the clubhouse's country-club style restaurant to discuss the day's high lights, upcoming events and of course, grandchildren.
After nearly four years of living at The Carlisle, Mr. Klein has created a strong social network and formed long-lasting friendships.
"The most delightful people call The Carlisle home," he said. "I dare you to find a senior living community with a more beautiful surrounding, nicer people and better food. The Carlisle has so many positive things going for it."
Located at 6945 Carlisle Court in Naples, The Carlisle offers spacious one-and two-bedroom residences include lifetime care and maintenance, weekly housekeeping and flat linen services, basic cable TV, all utilities except telephone, and a complimentary full breakfast plus choice of lunch or dinner in the community's gourmet-style restaurant.
The Carlisle, a luxury, resort-style senior living community in North Naples, offers both Independent and Assisted Living lifestyles. Available on a monthly fee basis, the ECC-licensed and CARF-accredited community boasts a full range of services and amenities including 12-hour restaurant dining, housekeeping, transportation and activities. Located on Airport-Pulling Road, between Pine Ridge and Immokalee Roads, the award-winning community's lush tropical environment is highlighted with meandering walking paths around three lakes and tranquility gardens. For more information or to schedule a tour, please call Director of Marketing Thom Braun at 239-221-0017.
For more information about the community,  please call 239-221-0017 or visit www.TheCarlisleNaples.com.