Get motivated to look and feel your best this holiday season with these tips from Orangetheory Fitness.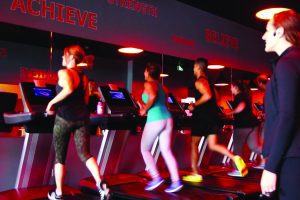 The holiday season is in full swing, with Thanksgiving wrapped up and Christmas right around the corner, 2017 will be here before we know it. The days are getting shorter yet busier, and the holidays can throw us off of our routines. But with the right focus and motivation, combined with the best tips, you can heat things up and increase the burn this fall and winter—starting NOW!
New Year's resolutions are great, but why wait? Every day is an opportunity to start working on a new you. Signing up for Orangetheory Fitness is an easy step you can take today to start working toward your transformation. You'll be amazed how much of a difference each 60-minute session will make.
We want you to look and feel your best in time for the holidays, for all your family and friends to see. We have some tips to help you start healthy habits now, even during one of the busiest and most stressful seasons of the year.
Stay Active – In Fall and Winter, our inclination is to go into hibernation mode with the remote and our favorite comfort food—but curbing that habit can make reaching your fitness goals much easier. Luckily the cooler weather makes outdoor activity more comfortable and enjoyable. It's marathon season, so why not sign up for your first 5K? You can take it at your own pace, and once you do start burning at Orangetheory you'll love seeing your performance get better and better.
Another fun idea? Take a quick weekend getaway to explore a new city. Get outside, walk around, and see it all. Ice skate at an outdoor rink downtown, or go kayaking through a tropical paradise.
Eat Smart – Don't worry, we're not telling you to ditch the pumpkin pie or any of the holiday staples. But going "All Out" is better saved for your upcoming sessions at Orangetheory than for dinner and dessert. It's all about balance and moderation—and remembering how much better you feel when you don't stuff yourself. (Stuffing is for turkey!)
And if you find yourself reaching day-in and day-out for high-calorie treats like egg nog, a quick search on your smart phone can help you find dozens of healthy alternatives that mimic the real deal.
Involve the Family – The holidays are about being with family. Go on a group walk after dinner to enjoy the crisp air and keep the conversation going with loved ones; it will help you fight the food coma and get your metabolism going.
Even better? Make your family part of our future Orangetheory Fit Fam. Give us a call to get you and your family members signed up, and encourage them to start burning for their future. Giving the gift of health is the best holiday gift to show how much you really care.
Get Orange
Our efficient 60-minute workouts use high-impact interval training to keep you burning calories for up to 36 hours after your session. From turkey and pie to the festive foods we indulge in for other holidays throughout the year, taking classes before holidays will let you continue burning during those big feasts.
Another benefit of spending more time in the Orange Zone during the holidays? You'll get to spend time with your Fit Fam. One of the things members across Orangetheory Nation say they love about the workout is the sense of community among members and trainers who become friends and motivation partners.
The Orange Zone will be a huge part of your healthy lifestyle, but it doesn't end there. Know that we're here to encourage and support you, both in and out of the studio, so you can reach your goals and get the real results you want.
OTF Gladiolus
11600 Gladiolus Drive, Unit 317
Ft. Myers, FL 33908
Call 239.243.0730
Otf six mile cypress
8001 dani Drive, unit 6
ft. myers, fl 33966
call 239.292.5826