Michael J. Petrocelli, D.P.M., F.A.C.F.A.S., C.W.S.P.
Board Certified Ankle and Foot Surgeon and Board Certified Wound Care Specialist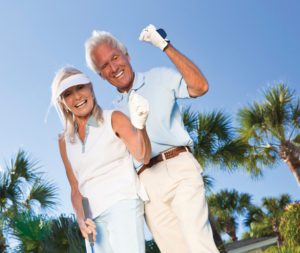 Because we have the most beautiful weather all year long, in our sunshine state, older individuals are golfing, playing tennis, pickleball, kayaking, swimming, and the list goes on and on; but with all of this healthy activity, adults are more susceptible to injury and wear and tear.
Many sports-related injuries are putting players in quite the predicament. Oddly enough, most of these injuries are taking place in the feet and ankles. According to the USAPA (USA Pickleball Association), 70% of the participants playing pickleball are over the age of 60. That's a lot of seniors out there enjoying this exciting sport, but that also means that there are more injuries needing medical attention. The same holds true for many other sports and outdoor activities. Ballistic movements or quick side to side, lateral transitioning are very often what lead to these injuries.
Common Foot Injuries
• Plantar fasciitis
• Ankle Sprains & Strains
• Foot Arthritis Exacerbation
• Achilles Tendon Strain
• Heel Bruising
Collier Podiatry
At Collier Podiatry, Dr. Michael Petrocelli has been practicing podiatric medicine for well over 20 years. He is an expert in his field and a leader to his peers. He and his staff see a great deal of sports-related injuries in the Naples area.
Collier Podiatry is familiar with the common foot injuries related to popular sports. Although, there are many options when treating individual needs, the two most common forms of treatment for foot injuries are Deep Tissue Laser Therapy and Stabilization.
Laser Therapy
Deep tissue laser therapy uses a process called photobiomodulation, which penetrates deep into the muscles tissues using photon energy. This therapy increases cellular metabolism, while decreasing inflammation and pain.
Collier podiatry sees great results in their patient's foot health with this treatment option. The best part is that there are no side effects, no harmful medications and more importantly, long lasting results.
Stabilization
The second of the two mentioned treatment options is Stabilization. This option is achieved through a device such as a brace or foot support, which technically is ankle-foot-orthoses or AFO.
There are many medical supply options that your podiatrists can prescribe, such as ankle braces, high top orthotic shoes, lace up supports and shoes made with a medial-lateral supportive base. There is of course a more permanent stabilization option, which includes surgery of the foot and ankle, but not all patients need this. It's important to be evaluated by an experienced podiatric professional if you're experiencing any type of foot pain.
Along with these treatment options, Collier Podiatry will provide you with personalized instructions on the necessary amount of rest, stretching exercises and home care to get you back to doing what you love—playing sports!
The caring supportive staff at Collier Podiatry is available to answer your questions and make your appointment. Please visit their website at www.collierpodiatry.com, or call them at (239) 775-0019
NCH Countryside Commons
Michael J. Petrocelli, D.P.M., F.A.C.F.A.S., C.W.S.P.
1715 Heritage Trail, Suite 204
Naples, FL 34112
Phone: (239) 775-0019
Fax: (239) 775-0219
Email: CollierAppointments@gmail.com