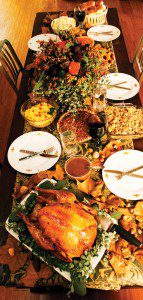 Thanksgiving is a holiday dedicated to give gratitude to the things that matter most – good health, friends, family & faith. The Thanksgiving table symbolizes all of this, as we show our love through what else, but food.  A vast collection of dishes makes up this anticipated feast: green bean casserole, turkey smothered in gravy, stuffing and mashed potatoes to name a few.
Unfortunately, overeating on Thanksgiving is the norm for many. What's more, this feast marks the beginning of a downhill food battle for the rest of the holiday season.
As we well know, overeating inevitably leads to weight gain for many. But what many people don't realize is that regularly overindulging — especially on sweets and simple carbs — also can usher in a host of other ailments, from heart disease to type-2 diabetes to cancer.
The following tips will help you avoid overeating on Thanksgiving and through the holiday season:
1.    Don't Forget Breakfast
One of the easiest things to do is overindulge when you're hungry. So don't starve all day to "save up" space for the Thanksgiving meal. Instead, have a little bit of protein (say, a hard-boiled egg) and some high-quality carbs (say, a few celery sticks) before your family's gathering. That'll help you from pigging out.
2. Dine on Smaller Plates
When it comes to Thanksgiving, or any other holidays, for that matter, small is better. Smaller plates = less room for food = less overeating.  Cover your plate with food and still trick your brain into feeling like you are eating more.  This simple switch can save you from consuming up to half the calories you would have with a larger plate.
3. Protein Comes First
When you begin your Thanksgiving meal, always have protein first. Then go for the vegetables. Hold off on carbs until last. The protein will help slow down the absorption of the carbs and will fill you up more quickly.
4. Personalize Your Smorgasbord
Chances are there will be some foods at the table that you've waited all day to try and others you didn't even know where being made.  Choose the foods you love and pass on those you could do without.  Instead of mounds of food, have a little bit of everything so you can still try all you want, without feeling stuffed like the turkey in front of you.
5. Put Your Fork Down
When you eat your meal, put your fork down after every bite you take. Then chew each bite at least 10 times. The slower you eat, the less you will eat before feeling full, and the more you will actually taste the food.
6. Keep Close Track
Make a promise to a friend or loved one to write down every single bite that you consume on Thanksgiving. The idea of having to share your food list with someone else is quite intimidating, and just keeping a what-I-ate-at-Thanksgiving list can prevent pigging out.
7. Hit the Road
Rather than hitting the couch, encourage others to get up and go.  Head outdoors for a brisk walk once the meal is over.  Being active, even for 15 minutes, will give your metabolism a jolt.