By Thom Braun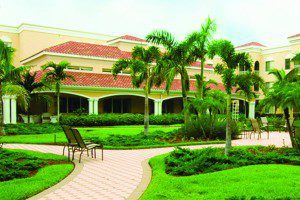 As we approach the height of the 2014 Atlantic hurricane season, residents' safety and wellbeing continues to be a chief concern for retirement communities across the state. The Carlisle, a luxury resort-style senior living community in North Naples, is no exception.
According to The National Hurricane Center, research shows that mid-September has about as many major hurricane landfalls as August and October combined.
The Carlisle team, under the guidance of Executive Director Bill Diamond, takes a proactive approach in ensuring each resident's security and comfort.
"Employees serve as the residents' safety lifeline," he said. "Our staff undergoes extensive training, including a thorough review of our disaster plan prior to the beginning of each hurricane season."
Prior to the official start of hurricane season—June 1—the community held a Hurricane Preparation and Safety facilitated by Michael Shaw, a representative from Collier County Emergency Management, to educate residents and answer questions they may have about hurricane preparedness.
"Although we have been fortunate the last several years, many seniors still remember the devastating effects of Hurricane Wilma," added Diamond. "There were overwhelming stories of seniors who were unable to leave damaged homes, refill prescriptions and maintain healthy diets."
At The Carlisle, should a hurricane warning be issued for the area, the management team carefully monitors the storm's progress, utilizing the latest weather data resources. The community understands the importance of communication and maintains contact with residents' families by providing periodic updates.
Throughout the hurricane, every effort is made to keep residents as comfortable as possible while maintaining a sense of normalcy. Residents may continue enjoying the community's calendar of social activities with very little interruption to their lives. Additionally, The Carlisle's executive chef continues to create his signature meals in the community's onsite gourmet restaurant.
Following a storm, staff works tirelessly to restore equilibrium to the community. Maintenance crews quickly survey the damage and make necessary repairs to ensure resident safety. The Carlisle coordinates all clean-up and repairs; therefore, residents are able to avoid the numerous scam-artists who prey on hurricane victims.
"Residents never weather the storm alone," said Diamond. "Our entire team is available to lend a helping hand and is dedicated to making their safety our number one priority."
Located at 6945 Carlisle Court in Naples, The Carlisle offers spacious one-and two-bedroom residences include lifetime care and maintenance, weekly housekeeping and flat linen services, basic cable TV, all utilities except telephone, and a complimentary full breakfast plus choice of lunch or dinner in the community's gourmet-style restaurant.
The Carlisle, a luxury, resort-style senior living community in North Naples, offers both Independent and Assisted Living lifestyles. Available on a monthly fee basis, the ECC-licensed and CARF-accredited community boasts a full range of services and amenities including 12-hour restaurant dining, housekeeping, transportation and activities. Located on Airport-Pulling Road, between Pine Ridge and Immokalee Roads, the award-winning community's lush tropical environment is highlighted with meandering walking paths around three lakes and tranquility gardens. For more information or to schedule a tour, please call Director of Marketing Thom Braun at 239-221-0017.
Luxury Rental Retirement Living
6945 Carlisle Court, Naples, FL  34109
239-221-0017 . www.srgseniorliving.com