By Jeff Spector, Lead Designer – Curtis Allen Designs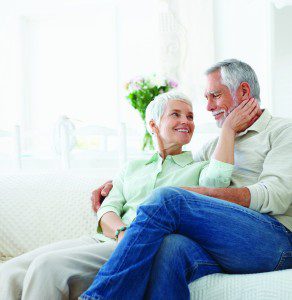 If someone were to ask what your dream home would be like — where you could live comfortably and enjoy this home until the end of your days — what would your answer be? Would you have large, ornate rooms with a beautiful view, a modern kitchen with a large island? Would you have all the latest in technology to keep up with this ever-changing world, and all of the amenities to entertain your loved ones?
There are many combinations of luxury and necessity that each of us finds ourselves fantasizing about when we envision the home we want to live in as we age. When we think of a home that is comfortable, there is a certain expectation that we will be able to navigate it with ease, that we will be able to enjoy living in it for the rest of our lives. One way to make this dream a reality is by ensuring that our home is accommodating to any situation.
There are many ways to make our home a safer place to live and visit; some of which we can do ourselves, while others are best left to the professionals. Some of the things we can do include keeping the home clean and clutter-free with ample lighting, making sure fire extinguishers and smoke detectors are present and working. We can also secure rugs or replace them with nonslip rugs, keep chemicals away from food, dispose outdated products, and check all extension cords for damages or replace them with power strips.
The modifications that Certified Aging in Place Specialists (CAPS) can help you with include adding grab bars and hand rails, building wheelchair accessible ramps, switching tubs out for showers with transfer benches or installing Bliss Tubs. In addition, changing hardware on cabinets from knobs to pulls or levers, installing motorized window treatments and remote controlled fixtures will make life easier as well.
It is no secret that we will all age, and some of us or our loved ones, will be in a situation (whether it be illness or disability) where safety and stability will become ideal much earlier than others. The good news is that we can take steps necessary to prepare for these needs and ideals to change. Options today allow us to modify or design our homes with the needs of someone with or without disabilities in mind, a term called Universal Design.
CAPS will be able to assess and address with you the Five A's of Universal Design- availability, accessibility, acceptability, affordability and adaptability. Your specialist will be able to determine your immediate needs, but it is a good idea to have a physical therapist or physician inform you of the assistance you may need within the upcoming years, since every person ages differently.
Keeping in mind that Universal Design is not only for the elderly, most of the options available are also helpful to someone who is planning to have surgery or is recently recovering from an accident. Safety features that are designed to assist people with mobility and stability are good to have installed, whether you are old or young, in perfect health or ill. Some options to consider are wheelchair ramps, stair glides, walk-in tubs, hand rails, grab bars, zero threshold showers, 34-inch wide door jambs and widened areas between furniture.
With the safety of our loved ones in mind, envisioning a home that will accommodate our needs is now easier than ever. At Curtis Allen Designs, our staff are CAP specialists who can help you make the best educated decision as to which types of safety features to include in your universal design. Give us a call today to discuss your options or visit our showroom to see how these safety features, along with Curtis Allen Designs, can make your life easier.   Let us walk you into the future of Living and Aging in Place. Our showroom is open Monday to Friday between 8am and 5 pm. We look forward to meeting you there!
AGING IN PLACE
www.curtisallendesigns.com
239-418-0011