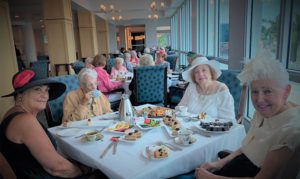 For many seniors, the abundant choices available for senior housing can be overwhelming. Making an informed and confident decision can take some time and quite a bit of research, so we've broken down the most common options and the features and benefits that differentiate them.
Senior Living Communities
Independent senior living communities are often the first to be considered for those who require no assistance or hands-on care. These communities are often amenity-rich, offering a wide variety of social, educational and physical activities, as well as fully equipped apartments. Independent living caters to an all-inclusive lifestyle, offering an abundance of amenities that eliminate the burden of responsibility including housekeeping, transportation, maintenance, and meal preparation. At Campo Felice in downtown Fort Myers, amenities also include an on-site beauty salon, scheduled and private transportation options, chef-prepared dining options, fitness center and group exercise programs, housekeeping and linen services, and an abundant activities calendar.
Independent senior living communities are ideal for seniors who are mostly self-sufficient, appreciate a vibrant, active and healthy lifestyle, and wish to enjoy the benefits of independent apartment living. Often the least expensive of senior housing solutions, senior living communities provide affordable or upscale luxury living for the 55 plus individual.
Assisted Living Communities
If you are seeking some assistance with daily tasks but do not require skilled nursing or home health care assistance, you may consider an assisted living community as an option. These communities vary in their offering with staffing provided 24 hours a day for their residents.
Due to the level of care provided to residents, assisted living communities are licensed and regulated by the State, which may have an impact on the services and level of care they provide. Typically, these communities provide varying levels of care to assist residents with medication assistance, hygiene, bathing, dressing, and toileting. Because of the increased care, the cost associated with assisted living will be more than that of independent living. Campo Felice is planning to break ground on their second phase later this year, which will include assisted living options within their community.
Memory Care
Often present within an assisted living or nursing home community is a memory care neighborhood.
The separation of the memory care community is for the security and safety of its residents in need of specialized care for Alzheimer's and dementia. Memory care is often equipped with security safeguards including alarmed exit doors and specialty trained staff to care for dementia related conditions. In addition, supervised care is provided for activities, meals, and overall well-being.
Memory care communities are designed with the resident in mind and provide personalized care plans. They include safeguards to prevent residents from wandering or getting lost. The residences are limited in size and appliances to prevent accidents from occurring. Due to an increased level of 24-hour dedicated staffing, memory care communities are higher than that of assisted living. Campo Felice's second phase will include a dedicated memory care neighborhood.
Nursing Homes
Seniors who require 24-hour monitoring due to debilitating physical or mental conditions or are unable to take care of themselves, often consider a nursing home as a viable option. These homes provide skilled nursing services for those who require an acute level of daily assistance and intensive or long-term medical support.
In addition to licensed nurses, these homes may also be staffed by a licensed physician, as well as physical, occupational and speech therapists to assist with resident need. They may also be equipped with specialty medical equipment, diagnostic services and onsite pharmacies.
Other Options
If you are looking for other options, you may consider a residential care home, adult day care, respite care or home care services. Each are distinctively different, with a varying number of services offered.
Residential Care Homes
These are private homes that accommodate a limited number of residents with 24-hour supervision and live-in caregivers. Often called group homes, they offer similar services as larger assisted living communities in a more intimate home-like setting. The cost for these smaller care homes is sometimes less than the cost of assisted living, given the limited services offered.
Adult Day Care Services
These are adult day service providers that care for seniors in the comfort of their own home or with transportation to an adult center. These servicing organizations provide social activities and health care services for seniors with physical or cognitive impairments. The cost for this service is on a private pay basis.
Respite Care
If a short-term stay or care is needed, respite care should be a consideration. These services are offered on an in-home basis or within a senior community. Often respite care is considered when a family caregiver needs to get away and recharge. In some instances, the family may wish to use respite care to gradually ease their loved one into a senior living environment. Either way, respite care is typically limited to one month or less.
No matter what the situation may be, having the knowledge of senior housing and care options will better serve you and your family members when the time arises. The continuum of care is important to understand as one enters their senior years, which usually begins with active, independent living. For most, it starts with eliminating the burden of home ownership and the maintenance that comes with it, making independent living an ideal option.
If you are interested in learning more about affordable housing options or wish to experience all that independent living has to offer, contact Campo Felice at (239) 935-5029. Mention this article and receive discounted summer value pricing on many of our affordable luxury residences.
Campo Felice
(239) 935-5029
www.LiveatCampoFelice.com