By Crystal Rothhaar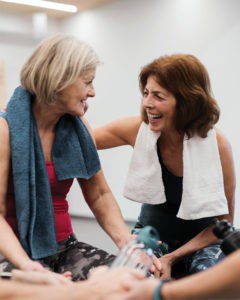 Each year, thousands of seniors head to sunny Florida to get away from Northern icy winters. While "snowbirds" escape the cold and snow and the dangers that come with them, health hazards such as seasonal affective disorder are often not avoided.
Seasonal Affective Disorder (SAD) is a form of depression that can affect people of any age and cycles with the seasons. It can occur any time of the year, but it typically affects people during the winter months, when the days are shorter and the weather gets colder. Signs of SAD include a loss of energy, irritability, changes in appetite and sleeping habits, and loss of interest in socializing and other activities. SAD most often occurs January through March, when the hustle and bustle of the holiday season dies down.
While Southwest Florida is sunny and warm during the winter, people can still experience SAD due to a decline in the amount of daylight and loneliness. Without friends, family or a support system nearby, social isolation can lead to depression and a decline in physical health, and many seniors do not regularly eat healthy meals or exercise.
Like other forms of depression, SAD can be treated with antidepressant medications, and light therapy can also help. With sunlight abundant in Florida during the winter, seniors can benefit simply by spending time outdoors and connecting with people.
Senior Friendship Centers is a local nonprofit whose mission is to support health, dignity and quality of life throughout the journey of aging. The organization offers programs to prevent isolation and loneliness for seniors including meal delivery, dining centers, friendly visitors, telephone reassurance, activity centers, caregiving resources, adult day services and more.
"Our founder, Brother Geenen, always said that loneliness and isolation are the malnutrition of the elderly," said Erin McLeod, CEO of SFC. "About 20 percent of people over the age of 50 suffer from loneliness, and this can cause physical and mental
decline. At Senior Friendship Centers we want to help people make social connections. We want people to know how they can help lonely seniors who are still alive through volunteering or support."
Loneliness and isolation in seniors have been linked to high blood pressure, heart disease, obesity, a weakened immune system, anxiety, depression, cognitive decline, dementia, and even death. People who find themselves alone due to the death of a spouse or partner, separation from friends or family, retirement, loss of mobility, and lack of transportation are at particular risk.
"Studies show that isolation can be compared with smoking more than a pack of cigarettes per day," said McLeod. "Being lonely can lead to poor physical and mental health and depression."
Conversely, studies have shown that people who engage in meaningful, productive activities with others tend to live longer, boost their mood, and have a sense of purpose. These activities seem to help maintain their well-being and may improve their cognitive function.
Senior Friendship Centers has locations in Sarasota, Venice, DeSoto and Lee Counties and provides:
• Senior Centers with live music, dancing, card games, foreign languages, art classes, yoga, tai chi, falls prevention classes, pool, and much more. A connection with others helps people find purpose and meaning during the bonus years.
• Dining clinics where people don't have to eat alone, or for those homebound, a home delivered meal. The only requirement is that people are 60+, there is no income requirement.
• Adult day services where seniors with dementia or medical challenges can have fun and feel valued, and caregiving resources, including support groups.
• Medical and dental care for low-income and uninsured senior patients.
• Volunteer opportunities for retired doctors, dentists, nurses, or people who want to work the front desk, deliver meals, teach a class, and more.
• Tax help, legal assistance, and help with electric bills, especially for those on a fixed income.
There are steps you can take each winter to prevent yourself or a senior loved one from developing SAD. They include:
• Exercise for 30 minutes daily. Mindful exercises like chair yoga or Tai Chi are especially helpful.
• Cut back on sugary foods and eat a healthy diet.
• Avoid alcohol or limit intake.
• Spend time with family and friends on a regular basis.
• Join a senior center, such as Senior Friendship Centers, to connect with others.
For more information about Senior Friendship Centers, visit friendshipcenters.org or call (941) 955-2122.
1888 Brother Geenen Way
Sarasota, FL34236