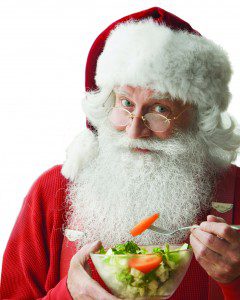 Making one simple change to your diet – adding a salad almost every day – can pay off with plenty of health benefits.
Have you had your salad today? Eating salad almost every day may be one of the most healthy eating habits you can adopt — and one of the simplest, experts say.
Eating salads is a super-convenient way to work in a couple of servings of vegetables and/or fruit.
Not only that, but salads are cool, crunchy, and fun to eat (lots of textures, colors, and flavors). Most people enjoy eating salads–even kids! You can customize them to include the fruits and vegetables that appeal to you the most, and whichever ones you have on hand.
Eat Salads for the Fiber
It's hard to believe that something we can't even digest can be so good for us! Eating a high-fiber diet can help lower cholesterol levels and prevent constipation.
Not only that, eating more fiber can help you feel fuller, eat less, and ultimately lose weight.
Eat Salads to Increase Consumption of Fruits and Vegetables
Many experts agree that Americans need to eat more fruits and vegetables (especially dark green and orange vegetables) and legumes — all popular salad ingredients. There is plenty of evidence that nutrient-rich plant foods contribute to overall health.
If you frequently eat green salads, you'll likely have higher blood levels of a host of powerful antioxidants (vitamin C and E, folic acid, lycopene, and alpha- and beta-carotene,) especially if your salad includes some raw vegetables. Antioxidants are substances that help protect the body from damage caused by harmful molecules called free radicals.
For years, researchers have noted a link between eating lots of fruits and vegetables and lower risks of many diseases, particularly cancer. A recent study from the National Cancer Institute suggests that people whose diets are rich in fruits and vegetables may have a lower risk of developing cancers of the head and neck — even those who smoke and drink heavily. Foods found to be particularly protective include beans and peas, string beans, peppers, tomatoes, carrots, apples, nectarines, peaches, plums, pears, and strawberries.
Eat Salads to Cut Calories and Increase Satisfaction
If losing weight is your goal, you may want to start your meals with a green salad.
Studies have shown that eating a lowcalorie first course, like a green salad of 150 calories or less, enhances satiety (feelings of fullness) and reduces the total number of calories eaten during the meal.
Bigger is better, when it comes to salads, as long as the salad is bigger in volume, not in calories – which means more veggies and less dressing and other fatty add-ons.
Dressing your salad with a little olive oil, may even add years to your life. Italian research on people aged 60 and older has suggested that a diet that includes plenty of olive oil and raw vegetables is linked to reduced mortality.
Have you had your salad today? If you need some inspiration, stop by Saladworks and grab a salad full of nutrient dense fruits and vegetables. Eating healthy never tasted so good!
Saladworks
2352 Pine Ridge Road, Naples, FL 34109
239-228-7815
saladworks.com