By Crystal Rothhaar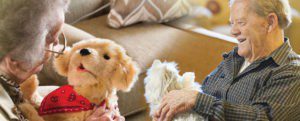 "Love" has wide black eyes, white furry paws, and meows and purrs gently while she is held. The black and white feline brings comfort to older adults with Alzheimer's or dementia related diseases at The Caregiving Place at Senior Friendship Centers.
But "Love" is not a real cat, and her name will likely change tomorrow.
The robotic pet is the next big thing in dementia care, designed to bring comfort, companionship and lower stress for older adults. The Caregiving Place has a robotic dog, cat and baby that have authentic sounds, motions, and use built in sensors to respond to motion and touch.
The cat opens and closes its eyes, purrs, lifts its paw, opens it mouth, moves its head and body, and has synthetic, soft, brushable fur. The dog barks, moves and responds to voices. The baby coos, cries and responds to being rocked and held.
Recent research has shown that robotic pets are effective in reducing feelings of depression and loneliness, and seniors in long-term facilities have shown high levels of attachment to both a living and robotic canine. In fact, in one study, researchers noticed that residents of a retirement home touched and interacted with robotic pets more than they touched a live dog.
"Every day is different with dementia patients," says Debbie Morrill, adult day services manager at The Caregiving Place. "After a long day, someone may feel tired and anxious. The robotic pets help relax them and calm their anxiety."
Senior Friendship Centers does also have pet therapy twice a month, when real animals from the Humane Society of Sarasota County spend time at The Caregiving Place. But there are several benefits of the robots over a real pet.
"We don't have to clean a litter box, take them outside, feed them or take them to a vet," said Morrill. "Sometimes our patients who are in more advanced stages of dementia are afraid of a real animal, but they will hold the robots. They can get the benefits of having a pet without having to care for them."
Morrill encourages family members to look into getting their own robotic pets if they're interested, and directs them to Amazon to purchase. The pets cost around $100.
That's much more affordable than PARO, the $5,000 robotic seal that The Windsor recently brought to visit patients at The Caregiving Place. PARO is an advanced robot developed by AIST, a leading Japanese robotics company. PARO has five kinds of sensors: tactile, light, audition, temperature, and posture sensors, with which it can perceive people and its environment. It can recognize light and dark, can feel being stroked or held, and can recognize the direction of voice and words such as its name, greetings and praise.
PARO can also learn to behave in a way that the user prefers and respond to new words. For example, if you stroke it every time you touch it, PARO will remember your previous action and try to repeat that action to be stroked. If you hit it, PARO remembers its previous action and tries not to do that action.
Researchers at the University of Auckland in New Zealand recently discovered that a robot companion can offer benefits to senior adults similar to that of a living animal.
For the study, 40 residents at a retirement home were separated into two groups. One group was interacted with the PARO for two weekday afternoons for 12 weeks. The other group went on trips around the city and participated in activities such as card games or arts and crafts.
Before and after the 12-week period, participants in both groups completed tests intended to measure their loneliness, depression and quality of life. Researchers found that loneliness scores decreased in the PARO group, but increased in the activities group. The residents also talked to each other more during the PARO sessions than the activity sessions.
Staff at Senior Friendship Centers report similar findings, and regularly include the dog, cat and baby in daily activities.
"It's amazing how interactive these robots are," said Morrill. "They aren't a substitute for other psychosocial group activities and sensory interventions, but they are a great addition to Senior Friendship Centers, especially for those who love animals."
For more information about The Caregiving Place, contact Paula Falk at 941-556-3270 or
pfalk@friendshipcenters.org, or visit www.friendshipcenters.org.
The Caregiving Place
941-955-2122
www.friendshipcenters.org
1888 Brother Geenen Way
Sarasota, FL34236