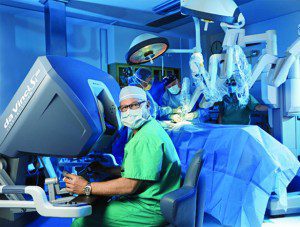 Patients often resist or delay necessary surgery because of the toll it takes on their body and their lifestyle. At Bayfront Health Port Charlotte, it's possible to have complex procedures but with less pain and a faster recovery time—thanks to the revolutionary Robotic-Assisted Surgical Systems. These innovative systems allow surgeons to perform minimally invasive procedures through tiny incisions, which may result in less pain, shorter hospital stays and quicker recoveries for patients.
How does the Robotic-Assisted Surgical
System work?
The system consists of three integrated components: a console at which the surgeon sits while performing the procedure, a patient-side cart with the robotic arms, and a video tower with a large monitor so that the entire operating room staff can view the surgery.
During surgery, the surgeon sits at the console and looks through a lens that is 10 times more powerful than the human eye. In fact, the visual is so clear, the surgeon can see the weave of the suture thread. The lens displays high-definition images and has 3D capabilities.
Also at the console are the controls the surgeon uses to manipulate the robotic arms which are the centerpiece of the system. The robotic arms translate the surgeon's hand, wrist and finger movements into precise movements of the miniaturized instruments at their ends. Each is equipped with an endoscopic camera that transmits a high definition 3D image of the surgical site. Through tiny incisions, the arms move with remarkable precision and steadiness, make finer movements and allow greater range of motion and dexterity than the human hand and wrist. The robotic arms can reach areas of the body that no human hand can. The surgeon is able to adjust the sensitivity of his hand movements to the corresponding micro-movements of the instruments.
While the robotic-assisted surgical system is robotic, it is not a robot. The system is incapable of being programmed to make movements on its own—it is totally dependent on the directions relayed from the console. The robotic-assisted surgical system is a tool, like a scalpel, that a skilled surgeon uses. The surgery is performed entirely by the doctor.
Benefits for the Patient
One of the most appealing advantages of robotic-assisted surgery is the size of the incision. Each robotic arm needs a puncture only one or two centimeters in diameter—about the thickness of a pencil.
Although individual situations may vary, most patients experience the following:
• Smaller incision
• Less pain
• Less scarring
• Less risk of infection
• Less blood loss
• Fewer transfusions
• A shorter hospital stay
• Faster recovery
• A quicker return to normal daily activities.
Patients interested in robotic-assisted surgery must discuss their condition and health concerns with their physician. Surgeons at Bayfront Health Port Charlotte are specially trained and have experience with a variety of robotic-assisted procedures, including:
• Single-site gallbladder surgery – Using the robotic-
assisted surgical system, surgeons at Bayfront Health can perform this procedure through a single incision in a patient's belly button. Patients who choose single-site technology at Bayfront Health experience a virtually scar-free procedure with shorter recovery times.
• Gynecological procedures – Robotic-assisted surgeries provide another alternative for women seeking minimally invasive surgery for fibroid tumors, endometriosis and pelvic prolapse, or for those considering hysterectomy.
• Colorectal surgery – Those diagnosed with a colorectal condition—colon cancer, rectal cancer, diverticulitis, and inflammatory bowel disease (ulcerative colitis and Crohn's disease)—can look forward to a few small incisions instead of the large abdominal incision used in open surgery.
• General surgery procedures – Other procedures and conditions also benefit from minimally invasive robotic-assisted surgery: cholecystectomy (removal of gallbladder through navel) performed from a single-site; hernia repair; nissen fundoplication (treatment for severe GERD); and colon repair.
The robotic-assisted surgical system makes it possible for these surgeons at Bayfront Health Port Charlotte to perform the same delicate and complex operations as with traditional open surgery, but with increased precision, better vision and improved dexterity:
Alvaro Bada, M.D. – single-site gallbladder removal, multi port gallbladder removal, multiple hernia procedures, and multiple colon procedures.
Domingo Galliano, M.D. – single-site gallbladder removal, multi port gallbladder removal, multiple hernia procedures, and multiple colon and colorectal procedures.
Ruben Guzman, M.D. – removal of fibroid tumors, ovarian cysts, and hysterectomy.
Charlene Okomski, D.O. – pelvic prolapse, removal of fibroid tumors, ovarian cysts, and hysterectomy.
Geoffrey Roelant, M.D. – partial gastrectomy, gastric tumor resection, nissen fundoplication (for acid reflux), hiatal hernia repair, hernia repair, sleeve gastrectomy, colon resections for cancer or diverticulitis, sigmoidectomy and rectopexy for rectal prolapsed.
Bayfront Health is also home to the only robot-guided technology for partial knee replacement and total hip arthroplasty. Orthopedic surgeons Nicholas Connors, M.D. and Ronald Constine, M.D. currently perform the following:
Robot-Guided Partial Knee Replacement
The entire procedure only requires a four to six inch incision over the knee. Tactile, intelligent robotic arm technology and three-dimensional visualization of the knee guides the surgeon in controlled resurfacing of the pre-defined area, saving as much of the patient's healthy bone and surrounding tissue as possible.
Using CT scan data, the surgeon follows a three dimensional computer model of the patient's pre-surgical plan. During the procedure, real-time visual, tactile and auditory feedback facilitates ideal implant positioning and placement.
It is this level of planning and surgical accuracy in treating earlier stage knee osteoarthritis that can result in a more natural feeling knee and motion.
Robot-Guided Total Hip Arthroplasty
Robotic arm technology provides your surgeon a patient-specific 3-D model to pre-plan your hip replacement. During the procedure, tactile, visual, auditory feedback, and real-time data assists your surgeon in preparing the hip joint and placing the implants in the desired orientation with more accuracy.
If your surgeon determines that you are a good candidate for the procedure, he or she will schedule a CT scan of your hip one or two weeks prior to your surgery date. This is used to create your unique surgical plan for optimal implant placement.
For more information about Bayfront Health's robotic-assisted surgical systems, visit BayfrontCharlotte.com.
Call 844-ROBOT-BH (844-762-6824) for a free physician referral.