By Pastor Timothy L. Neptune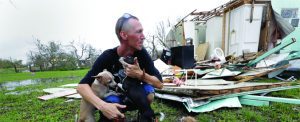 Many of you heeded the advice of weather forecasters and local officials when encouraged to evacuate the area in the days leading up to Hurricane Irma. That was certainly a wise choice.
Many others sheltered in place and chose to ride out the storm in the security of their home. A decision that was probably second-guessed more than once!
In our community, neighbors went door to door checking on each other. We helped each other put up storm shutters. We worked together to clean up our neighborhood.
Storms can bring out the best in people. Storms can bring out the worst in people, too. Nevertheless, the reality we all must face is this: storms are a part of life.
Our perfect world was shattered by the entrance of sin into the paradise known as Eden. Not many generations after Adam and Eve, the storm of all storms—Noah's flood—brought total destruction to the earth. Continual rain for 40 days and 40 nights spared nothing but eight dear souls and a host of animals on Noah's ark.
Though the rainbow in the sky promises us that God will never destroy the earth again with worldwide flooding, storms are still a very real part of our lives.
On more than one occasion, Jesus' disciples encountered storms. One time Jesus and his disciples were out sailing on the sea of Galilee when a huge storm blew in. You know it was a big storm because Jim Cantore was reporting live from Galilee that day:
23 Then he got into the boat and his disciples followed him. 24 Suddenly a furious storm came up on the lake, so that the waves swept over the boat. But Jesus was sleeping. 25 The disciples went and woke him, saying, "Lord, save us! We're going to drown!" 26 He replied, "You of little faith, why are you so afraid?" Then he got up and rebuked the winds and the waves, and it was completely calm. 27 The men were amazed and asked, "What kind of man is this? Even the winds and the waves obey him!" Matt. 8:23-27
I love that great little reminder: even the winds and waves obey him! Isn't that awesome!  All Jesus has to do is speak the word and the storms have to obey him.
Sometimes He allows the storms in our lives so that we will depend on him. Sometimes you will learn best in the calm. Sometimes you will learn best in the storm.
Did you notice what the disciples did when they thought they were going under? They cried out to God. They knew WHO to turn to in their time of crisis.
Who do you turn to in your times of crisis?  It's important to remember that you are never alone. God is with you and will be your rock, your shield, your defender, your deliverer, and your comforter in the midst of the storms of life.
Whatever storm you face you must never give up hope. There is an old African proverb that says, "However long the night, the dawn will break." God's mercies are new every morning.
Don't give up, give in, or quit. Don't listen to your fears. God has not given us a spirit of fear but of power or love and a sound mind. (2 Tim. 1:7)
One of the most powerful lessons we can learn from these storm stories is that God has control over the storms. Storms answer to the voice of God! As powerful as storms are—God is more powerful. In fact, God is all-powerful.
So, as you stand in awe at the power of a storm, may it remind you of the power of God. May it remind you that God is bigger than anything you and I will ever face or experience.
Though God could protect us from the storms, often He protects us through the storms. There are certain lessons that we really only learn from having weathered the storms of life.
Cancer, divorce, the death of a loved one, a health issue, a wayward child, loss of a job, betrayal by a friend… these storms are very painful to endure. These storms bring a level of destruction all their own. As painful as they are, we can come through them stronger, wiser and more dependent on God.
Remember, our purpose in life is not to sail through life with an unbroken string of successes. Our purpose is to become like Christ—to be conformed to His image. And sometimes, it takes a powerful storm to shape us, stir us, and change us into the people God wants us to be.
Tim Neptune is the lead pastor of Venture Church in Naples, Florida. Venture Church meets on the campus of FSW State College on Lely Cultural Blvd. in East Naples.  For times and directions, visit www.venturenaples.com.
Tim Neptune is the lead pastor of Venture Church in Naples, Florida. Venture Church meets on the campus of FSW State College on Lely Cultural Blvd. in East Naples.  For times and directions, visit www.venturenaples.com.