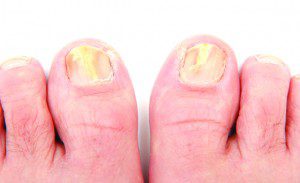 Toenail fungus affects almost half of Americans by the time they reach seventy. If you don't have toenail fungus, the person sitting next to you probably does or will have it soon.
The unsightly fungus can be embarrassing for many people, which is why most try to deal with it on their own. A simple Internet search of "toenail fungus" will pull numerous home remedies. These remedies include things like vinegar, tea tree oil, Clorox, hydrogen peroxide, and urine (yes, urine). Unfortunately, many of the "recommended" home remedies can be dangerous and cause any number of unwanted side effects. Most of these remedies will suggest diligent applications for about a year to get results, which is a very long time and requires a commitment to rid yourself of the ugly fungus infected toenails.
If home remedies aren't your cup of tea, there are oral medications that can be prescribed by your doctor to treat toenail fungus, but these have some bad side effects. There are also creams and other topical medications, but they have their downside too.
That's why Sarasota Foot & Ankle Center became a provider of the PinPointe FootLaser. PinPointe FootLaser is an FDA approved device that will kill your toenail fungus and stimulate new nail growth WITH ONLY ONE TREATMENT in almost 90% of patients. That's an incredible success ratio.
PinPointe FootLaser is the first laser scientifically designed to promote clearer toenails in patients suffering from unsightly nail fungus, or onychomychosis. This clinically proven and FDA approved procedure typically takes only 30 minutes to perform. It is more effective than oral medications and patients are not at risk of side effects common with these medications.
We perform the nail treatment in just one session, on an outpatient basis, with no anesthesia. We only zap the infected area and there is no pain or effect on the tissue surrounding the toenail.
Just think: You walk in, and thirty minutes later your toenail fungus is on its way out. You can even use nail polish the next day.
If you're suffering with embarrassing toenails, you don't need to hide them any longer.  Schedule your FREE consultation with Sarasota Foot & Ankle Center today and be on your way to walking barefoot without shame!
Dr. Dawn Chiu
Dr. Chiu graduated from the University of California, Davis and the California College of Podiatric  Medicine, San Francisco. She completed an externship at Atlanta Hospital in Georgia and at Fifth Avenue Hospital in Seattle, Washington. Dr. Chiu received her residency training in Podiatric Medicine and Foot Surgery at the Frankford Hospital in Philadelphia.
Dr. Arthur Clode
Dr. Clode received his undergraduate degree from Florida International University, Miami, and his podiatric degree from the California College of Podiatric Medicine. He completed externships at the Podiatry Hospital of Pittsburgh and at Southeastern Medical Center, Miami, as well as residency training in Podiatric Medicine and Foot Surgery at Golden Glades Regional Medical Center, Miami.