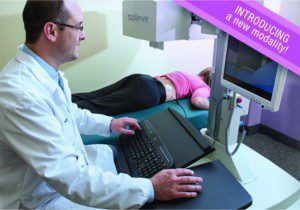 Dr. Zamikoff & his team have given back  hope for Bradenton residents, whose active lifestyles have been put on hold due to chronic and severe back pain, thanks to a treatment new to the area. Dr.David Zamikoff of Natural Healing Arts Medical Center in Bradenton was selected as one of America's Best Chiropractors for 2014 by the National Consumer Research Board & was selected by the International Association of Chiropractors as one of 2014's Best. He is excited to introduce Soleve to his patients & hopes to help others in the area with this revolutionary technology.
Soleve® Noninvasive Targeted Neurostimulation pro-vides restorative relief of chronic lower back pain, without the severe side effects of habit forming drugs, steroid injections, and dangerous back surgery.
The high-tech Soleve® device delivers soothing, highly concentrated electrical impulses to identified tissues and nerves without entering the skin or using drugs.
The device offers pain relief in 30-minute sessions that are easy, painless and economical – especially when compared to risky alternatives.
"Soleve® is a simple and painless experience for the patient, said Dr. David Zamikoff, who administers the process at the new Soleve® Center at Natural Healing Arts Medical. "The patient comes in and relaxes on the table. The neurostimulation device gently touches the skin on their lower back."
"The wonderful thing about Soleve® is what it allows my patients to avoid," Dr. Zamicoff continues. "Pain relief without surgery, steroids, injections. These things can be risky, and expensive and can have long-term side effects. My patients don't want any part of those overused and dangerous treatments."
Many patients from Bradenton are experiencing what they describe as "life changing" results.  According to Joseph Clements a Soleve Patient  "I could barely lift my golf clubs from my trunk, until I gave Soleve® a try. I've tried nearly everything, and was close to accepting that I will no longer be a golfer. But after Soleve®, I'm actually back on the tee swinging away, and not feeling pain."
The Soleve® Center in Bradenton is located at Natural Healing Arts Medical located at 2215 59th Street West Bradenton, Florida 34209 and is currently offering 1 Treatment FREE* ($165 value) & Free consultation to determine if Soleve® is the right fit for a patient's condition. *with purchase of Wellness package.
Anyone interested in the free consultation & this limited time 1 Free treatment* *(with Wellness Package) offer should call the clinic for an appointment at 941.787.5404.
For additional information, visit www.soleve.com or to sign up & qualify for a FREE treatment to solevedrz@gmail.com