By Gerald E. Grubbs, MD, Founder and Medical Director of Sarasota Interventional Radiology
No Compression = No Pain; No Callbacks for Additional Views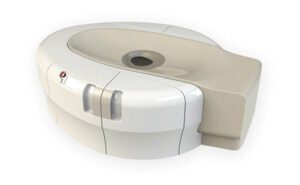 After over three decades of traditional mammography, a better way of breast imaging has finally emerged, and Sarasota  Interventional Radiology (SIR-Florida) is pleased to offer this new technology for your next breast exam. This is an exciting development for women, because many have agonized over and endured the pain of compression by traditional mammography for years. Some women have even abstained from getting mammography exams because of the painful experience. Now these women can actually look forward to their breast exam with the absolutely painless and comfortable Koning 3D Digital Breast Imaging (KBCT).
You've heard of CT—computed tomography—frequently used for the head, chest, and abdomen. It's a pain-free exam that sometimes uses a contrast material to produce enhanced images. KBCT uses CT technology specifically designed for the breast and produces high-contrast real 3D images with exceptional image resolution. It is performed in an open, nonconfining environment with absolutely no compression and with low-dose radiation levels.
At SIR-Florida we are on a continuous quest to provide the best possible patient experience, and one way we do this is to use the most technologically advanced medical equipment for the diagnosis and treatment of illness and disease. We chose the KBCT because it meets these criteria and produces the highest quality breast images available today. Our goal is to find any existing breast cancer early, because early detection is the key to early treatment and a cure.
Traditional mammography requires the patient to stand with each breast firmly compressed between two x-ray plates. KBCT is completely different—it's a quick 10-second scan with the patient lying prone and the breasts in a natural non-compressed position. The images are read by a radiologist who specializes in interpreting only breast images and has earned a Certificate of Additional Qualification.
It's very simple, and we won't be calling you back for additional views because one scan gives us comprehensive views of your breasts. If a biopsy is needed to evaluate a suspicious lesion, the procedure is performed with conscious sedation (twilight anesthesia). The patient does not feel a thing and wakes up immediately after the procedure with no memory of it. Administered by a board-certified anesthesiologist, SIR-Florida is the only facility that offers conscious sedation for the biopsy.
Contact us at Sarasota Interventional Radiology 941-253-5191 to schedule your KBCT, and eliminate any anxiety you may have about having that yearly breast checkup.
About Dr. Grubbs
Gerald E. Grubbs, MD, attended both undergraduate college and medical school in his home state before completing his residency in Diagnostic Radiology at the University of Tennessee.
Impressed with how the field of Interventional Radiology was transforming minimally invasive surgery and greatly benefiting patients, Dr. Grubbs took a fellowship in Cardiovascular and Interventional Radiology at the prominent and prestigious Miami Cardiac and Vascular Institute at Baptist Hospital of Miami. There he learned the fundamentals of many procedures he now performs. After completing his fellowship, Dr. Grubbs received his board certification in Interventional Radiology from the American Board of Radiology. He then moved to the Florida Suncoast where he specialized in Diagnostic, Cardiovascular, and Interventional Radiology. Dr. Grubbs has dedicated himself to becoming a trailblazer in his field and one of the first Interventional Radiologists to introduce and perform some of today's most sophisticated minimally invasive procedures.
About Sarasota Interventional Radiology
SIR-Florida, established by Dr. Grubbs in 2006, is a true non-hospital-owned outpatient facility that has no rival in the Sarasota/Bradenton area. Our new facility, which opened in July 2020, is a one-stop imaging center that features today's most advanced and revolutionary technology, including x-ray, ultrasound, bone density, Koning 3D Digital Breast Imaging, CT, CT angiography, and Digital 3D MRI, with PET/CT coming soon. We also collaborate with referring physicians to diagnose and treat conditions that once required open surgery.
SIR-Florida offers a significant financial advantage, as our procedures average about 20% of the fees charged at hospitals and hospital-owned outpatient facilities. This means substantially less cost to patients for the deductible portion of the bill and to insurance providers for the balance. When you factor in our board-certified physicians and technologists, the compassionate care we give to all patients, and our convenient location with ample free parking, SIR-Florida is your best choice for medical imaging.
SARASOTA INTERVENTIONAL
RADIOLOGY
6600 University Parkway, Suite 102
Sarasota, FL 34240
Main Phone 941-378-3231
Breast Imaging 941-253-5191
Fax 941-378-3253
Website www.sir-florida.com