Nicolas Perez, M.D. – Korunda Pain Management Center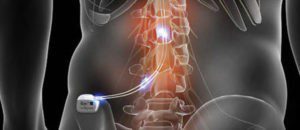 In the U.S., over 100 million people suffer from some form of chronic pain.  Most people can relate to having experienced physical pain in their lifetime, but to have to live with that pain on a daily basis can become debilitating.
For some patients with chronic back pain, standard forms of treatment such as medications, injections, and even surgery, may no longer be as effective in controlling their pain after long-term use.  That's precisely why Korunda Pain Management offers alternative options. One of these options is a small device that reduces pain through mild electrical stimulation and has shown to be a promising alternative.

Spinal Cord Stimulation
Spinal cord stimulation (SCS) was approved by the Food and Drug Agency (FDA) in 1989 but has been around for nearly 50 years. Over the past decades, numerous advancements have been made to the device, making it smaller, more precise and compatible with MRI imaging.
Spinal cord stimulation, also referred to as neurostimulation or neuromodulation, effectively modifies the pain signals before they reach the brain through mild electrical pulses on the spinal cord.
A unique feature of this neurostimulation treatment is that it's not something that a patient must commit to right away.  In fact, there is a trial period where you can "test-drive" the SCS device.  During this time, the physician and the patient can decide whether or not this is a successful therapy that should be implanted for long-term treatment. The trial period is typically 5-7 days, and that is usually ample time to make the correct decision for the patient's specific needs. When the trial period is over, the stimulation leads are removed during an office visit.
After a successful trial period, the implantation of the SCS can be done under general anesthesia, or in some cases with "twilight" anesthesia, where the patient is minimally under sedation. Depending on the specifics of the patient's health and general wellbeing, it's typically performed in an outpatient facility.
What Happens During the Procedure?
• Your skin is prepped to create a sterile field
• Local anesthesia is given.
• Using X-ray guidance, a needle is inserted into the epidural space (located within the spinal canal).  The stimulation leads (which are thin, flexible wires) are threaded through the needle and connected to an external neurostimulator.
• During the procedure, the patient is maintained comfortably awake and will be asked to provide feedback to ensure his or her areas of pain are adequately covered by a mild tingling sensation called paresthesias, depending on the frequency of the system used. For example, newer devices using higher frequencies do not produce paresthesias.
• Dressing and bandages are then applied to protect the leads and keep them clean.
• IF TRIAL BASIS: The neurostimulator is worn on a belt around the waist.
• IF LONG-TERM:  A tiny incision is made to house the neurostimulator underneath the skin. The incision is closed with sutures (stitches).
The entire procedure takes approximately 1-2 hours to complete.  The patient will receive a small handheld controller, which will enable the patient to control the amount of stimulation needed to redirect the pain signals so that their pain is diverted.
Spinal Cord Stimulation is a highly-effective treatment option and is available for patients with chronic arm, and back pain.  Very often, it is used to treat patients that have undergone prior back surgery that was unsuccessful. It's also proven efficacious for other various forms of neuropathy and intolerable pain.
Nicolas Perez, M.D.
Dr. Perez is the newest member to join Korunda Pain Management Center. He is Board Eligible in Physical Medicine and Rehabilitation, specializing in Pain Management. Dr. Perez received his Doctor of Medicine from Rutgers – New Jersey Medical School (formerly UMDNJ) in Newark, NJ. Dr. Perez completed his medicine internship at New York-Presbyterian/Queens Hospital in Flushing, NY and a Physical Medicine and Rehabilitation Residency at Rutgers – RWJ – JFK Johnson Rehabilitation Institute in Edison, NJ. He also concluded an Interventional Pain Fellowship at JFK Johnson Rehabilitation Institute in Edison, NJ.
Dr. Perez is a member of the American Academy of Physical Medicine and Rehabilitation, American Academy of Pain Medicine, and Florida Society of Interventional Pain Physicians. He looks forward to treating his patient's pain conditions with the most advanced procedures and treatments available.
At Korunda Pain Management Center, Their goal is to strive to deliver the highest quality of comprehensive care for those who are suffering from acute and chronic pain. They have many alternatives to help you with your personalized pain management needs.
Please visit their website at www.korundapmc.com or call them at (239) 591-2803.