By Thom Braun –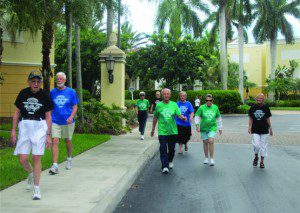 Older adults looking for the fountain of youth may be surprised to learn that it's actually the walk to the legendary spring that will keep them youthful, active and energized.
Research continues to show that regular exercise is important to physical and mental health for almost everyone, including older adults.
Marie Collignon, a resident at The Carlisle, a luxury retirement community in North Naples, knows first-hand the benefits of exercise, especially walking.
The former television and newspaper reporter has been an avid walker for several years.
"I'm known as 'The Walker'," she said with a laugh. "I typically walk about five miles every day."
She moved to The Carlisle nearly a year ago and spends much of her time exploring the community's meandering walking paths. Plus, without the hassles of day-to-day responsibilities, she's able to extend her "hikes" by visiting neighboring communities.
"When I lived in my condominium, I was constantly asking myself what I was going to eat for dinner," she said. "Now, I don't have to worry about that. The Carlisle does a great job with meals. I'm able to spend the day as I wish."
Neighbor Corrine Trischank shares Collignon's passion for walking. She dedicates 60-90 minutes to the outdoors each day.
"In between long walks around the community, I pause to reflect on nature and The Carlisle's beautiful setting," said the 84 year old who has been involved in sports her entire life. "I find it very relaxing."
In addition to walking, she uses the senior living community's state-of-the-art fitness center daily.
While her workout regimen includes repetitions on the elliptical and leg lift machines, studies reveal older adults can reap the benefits of strength training with just a few exercises per week. Building strong bones and muscles is essential to keeping the body functioning at its peak and can improve seniors' ability to climb stairs or get up from a chair.
The Carlisle's pool is yet another amenity that encourages residents to lead active lifestyles. Resident Ilse Abood, 85, never misses an opportunity to be involved in water fitness.
"I've loved water since I was probably about 4 years old," she said. "I use the pool every day, spending an hour exercising my knees, feet and back. I'm in even better shape than I was 2-3 years ago."
Research also confirms Abood's assessment. Regular exercise—even if initiated later in life—can help reverse some of the effects of aging.
The German native lived in Pelican Bay prior to moving to The Carlisle, which was recommended by a friend. She knew the community would be a perfect fit for her lifestyle after seeing the dining room and pool.
"I've always made decisions very quickly and have never regretted a choice," she explained. "The pool was impressive. It's very shady…you burn otherwise. I absolutely love the pool. I don't' know if there is another one in Florida that's as wonderful."
She also credits the pool for connecting her to three of her closest friends at The Carlisle.
"We yak it up and have such great fun," she said. "It's like I'm talking with my girlfriends from 20-30 years ago. I'm so happy at here."
The Carlisle provides daily exercise programs for seniors who prefer the guidance of highly-trained instructors as well. From aquacise to aerobics, there is a class designed for all fitness levels.
Residents looking to integrate more fun into their workout routines need only attend the community's weekly Wii activities. A new trend at retirement communities, Wii video gaming allows seniors to use wireless controllers that detect movement. With games such as bowling, tennis and golf, Wii has been proven to boost hand-eye coordination and improve balance.
The Carlisle's upcoming Summer Olympic Challenge provides yet another opportunity for residents to get a physical—and mental—workout in a fun-filled atmosphere. During the friendly competition, teams will face off for bragging rights in 23 challenges of varied skills and interests including Basketball Foul Shooting, Golf Chipping, Jeopardy and a Spelling Bee.
Located at 6945 Carlisle Court in Naples, off Airport-Pulling Road and across from Collier County's Headquarters Regional Library, The Carlisle offers independent and assisted living residences all under one roof.
The Carlisle, a luxury, resort-style senior living community in North Naples, offers both Independent and Assisted Living lifestyles. Available on a monthly fee basis, the ECC-licensed and CARF-accredited community boasts a full range of services and amenities including 12-hour restaurant dining, housekeeping, transportation and activities. Located on Airport-Pulling Road, between Pine Ridge and Immokalee Roads, the award-winning community's lush tropical environment is highlighted with meandering walking paths around three lakes and tranquility gardens. For more information or to schedule a tour, please call Director of Marketing Thom Braun at 239-221-0017.
Luxury Rental Retirement Living
6945 Carlisle Court, Naples, FL  34109
239-221-0017 . www.srgseniorliving.com