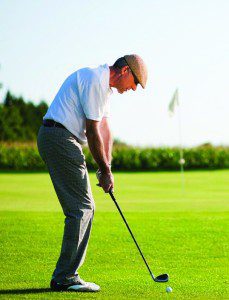 If your knee has been damaged by injury or one of the three most common causes of chronic knee pain (osteoarthritis, rheumatoid arthritis, and post-traumatic arthritis) it may be hard for you to do simple things such as walking, climbing stairs or doing your favorite outdoor activities.  You may even begin to experience pain while you are sitting or lying down. Joint replacement surgery is a safe and effective procedure to relieve pain, correct leg deformity, and help you resume normal activities.
Knee replacement surgery was first performed in the U.S. in 1968. Since then, improvements in surgical materials and techniques have greatly increased its effectiveness and safety in the operating room.  According to the Agency for Healthcare Research and Quality, and the Journal of the American Medical Association more than 600,000 knee replacements are performed each year in the United States.
Whether you have just begun exploring treatment options or have already decided to have total knee replacement surgery, the information presented here will assist you in achieving a safe, less painful, and more efficient recovery in the privacy of your own home.
X10 KNEE RECOVERY SYSTEM™:
THE NEW STANDARD FOR KNEE REPLACEMENT REHABILITATION
Physical therapy is famously painful for total knee patients; the primary methods of therapy have not been updated in a generation and deliver mediocre results. Knee pain, stiffness and swelling can last for weeks if not months.  Every knee replacement patient must work through these challenges to get back to activities of daily living, like doing housework, playing with grandchildren or getting back on the golf course.
Until now your only choices for recovery were traditional manual physical therapy or a, now discredited, recovery tool called the continuous passive motion machine (CPM).  After 10 years of research and years of clinical trials there is a new in-home tool that is vastly superior to convention recovery programs. Introducing the X10 Knee Recovery System™.
The X10 Knee Recovery System™ is a newly patented knee recovery program that takes advantage of modern computer and sensor technology to deliver a safe, nearly pain-free, complication-free recovery in the privacy of your own home.  X10™ clients can achieve full functional mobility within weeks rather than the usual months.
EXPECT COMFORT
The X10™ knee machine reads the tension of your knee and adjusts its motion according to your level of comfort.  The X10™ constantly monitors your knee; If the X10™ senses a level of resistance that might be uncomfortable it slows down and rests before you reach your pain threshold.  It gently increases your range of motion without aggravating your surgically repaired knee.  Due to the gentleness of the machine, you are able to use the X10™ three times each day, strategically spread apart for thirty minutes each session.
As your activity on the X10™ helps pump the swelling from the knee, you will be able to increase your range of motion and equally important, but not often mention, you will regain control of your leg muscles—preparing you for strengthening exercises. These exercises work every major leg muscle, and in doing so, they even more rapidly remove the fluid from your knee accelerating your recovery.
You recover at home with all the safety and comforts you are used to. Patients watch TV, listen to the radio, talk to friends while achieving results that were unheard of before the X10™.
THE STRENGTH FACTOR
Before surgery, knee pain leads to inactivity and a subsequent loss of leg strength which compromises balance and stability.  After surgery clients experience a significant loss of leg strength as the result of muscle atrophy.  The X10™ provides you with the ability to reduce the amount of muscle atrophy with a full suite of built in strength programs. In your home you have a full knee recovery system and a Certified X10 Recovery Coach who works with you throughout your recovery.
To learn more about the benefits of the X10™ visit www.x10therapy.com. There you can learn view patient stories and subscribe to a free Knee Replacement Newsletter. To speak with a Certified X10 Recovery Coach about your recovery plan call 1-855-910-5633.
Ask your orthopedic surgeon about X10™ when you discuss your recovery plan. Every day more and more residents of our great community are choosing X10™ to accelerate their recovery from Knee Replacement Surgery.
Back Full Strength
www.x10therapy.com
1-855-910-5633