By Hoglund Family Hearing and Audiology Services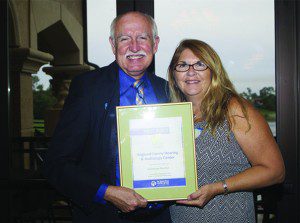 "When it comes to taking care of hearing loss, experience really matters!" states John Hoglund of Hoglund Family Hearing and Audiology Center. "Most people do not fully understand how complicated hearing loss can be. There are so many factors involved including the type of loss, how long the loss has been present, sensitivity to loud noises, balance and vertigo issues, as well as "ringing ears" and other head noises. Hearing loss has many causes, and impacts Patient's lives in many ways. Clear data to the brain is critical for keeping strong cognitive ability … and untreated hearing loss dramatically influences Patient's memory. You need somebody with experience and knowledge that keeps you, the Patient, completely informed of the entire process and will work with you to find the best solution for your lifestyle and budget."
"We are very proud of the staff we have assembled and the level of experience between our Audiologists and Hearing Instruments Specialist makes a huge difference in your clinical outcome", Mr. Hoglund continued, "My wife Patricia and I and our top two Audiologist have well over 100 years' experience between us in helping the hearing impaired. ANY of us… or in some cases ALL of us… are accessible to every Patient who visits our Practice. We believe in a "team approach" to working with our Patients. We have Audiologists that have seen every pathology you can imagine, including surgical ears, vertigo Patients, Meniere's disease Patients, single-sided deafness cases, and a lot of Patients with tinnitus or ringing "ears"! We opened
the area's first Tinnitus Clinic four years ago and have changed the lives of many people who were told by previous practitioners that nothing could be done to help them and they had to just learn to live with it! Dr. Dornton is now accepting new Tinnitus Patients!
We also have an AMAZING team of younger Hearing Instruments Specialist with very sharp technical computer programming skills, who do an outstanding job of always staying current with the rapidly exploding technology from each of the major manufacturers! They have a great depth of knowledge in all of these fitting algorithms and software programs. Technology in our field is like other area of electronics and new innovations are coming at us at a faster pace than we ever imagined, but our staff prides themselves on being our industry's version of a "geek squad" in keeping up with these technological advancements. If you have instruments purchased elsewhere that are NOT meeting your needs and want a FREE "Second Opinion" about the way they are programmed, please give us a call! The more sophisticated the devices have become; … the more important your Clinician's technical skills are to a successful fitting. I would put our staff's technical expertise up against any Practice in the nation!
KNOWLEDGE IS POWER WHERE YOUR HEALTH IS CONCERNED!
We built our Practice on a foundation of providing education to the hearing impaired. We have given educational lectures since 1985 throughout the community for groups and organizations seeking speakers, and during the winter months we have monthly "Lunch and Learn" seminars inviting people to local area restaurants to hear from educational speakers who are experts in hearing issues from across America. We invite manufacturers' representatives from the major manufacturers to hold product workshops showcasing the newest breakthroughs in today's invisible, digital, wireless, and Bluetooth technology. We provide all of these services and education completely free of charge to our Patients! "I never wanted expense to be a barrier to education", states Mr. Hoglund, "so we always do our evaluations completely free of charge or obligation. The only obligation a Patient has is to themselves and to their families, but I want them to know everything they need to know about their hearing issues! Our little slogan we've used for 20 years is… "All it will COST is a little of your TIME… but the KNOWLEDGE you receive may be PRICELESS!" "Please call us today to schedule an evaluation if you have any questions about any topic concerning your hearing!
Hoglund Family Hearing And Audiology Center
Fifteen 8th Street (Next to Royal Scoop Ice Cream)
Bonita Springs, FL 31434
(239) 498-7142
Southwest Florida Tinnitus And Hearing Center
10020 Coconut Rd. Ste.120 (Next to LabCorp)
Estero, FL 34135
(239) 992-HEAR (4327)
Hoglund Family Hearing And Audiology Center
88 Pine Island Road, Suite 3 (Inside Tucker Vision Center)
North Fort Myers, FL 33903
(239) 652-4327
AUDIOLOGY CENTERS OF HOGLUND FAMILY HEARING
13710 Metropolis Ave.Suite 101
(1 block East of Gulf Coast Hospital)
Fort Myers, Fl. 33912
(239) 498-4240