Prostate cancer is the third leading cancer among males. It is often a silent killer, as it rarely shows signs or symptoms until it has developed maturely and even metastasized into other areas of the body.1 This year alone, it will take over 31,620 men's lives. But it doesn't have to be this way! Prostate cancer can be diagnosed and treated effectively, alleviating these grim statistics. Early diagnosis is critical and achievable with the right steps. Due to prompt diagnosis, 3 million men in the US are prostate cancer survivors!1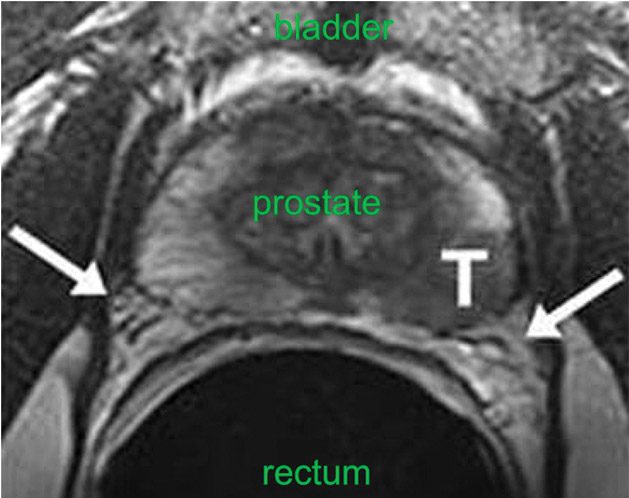 Diagnosis
A PSA (prostate-specific antigen) count, which tests the blood for specific protein-synthesized prostate cells can help diagnose prostate cancer. The higher the number of PSA, the more likelihood of impending cancer. There is also a more advanced test of free-range prostate PSA cells; this test typically reads higher in men that have undiagnosed prostate cancer. The earlier your PSA levels are checked, the better your chances of successful treatment and survival rate.
However, PSA scores can be somewhat unreliable. Some reasons that PSA scores may be high are due to infections, medications, or pressure from tight clothing or bike riding, to name a few.
Additional Testing with MRI can be Critical for Proper Diagnosis and Treatment
Certain medications, herbal supplementation, or being overweight can also have a counter effect on your PSA levels. For example, a person taking a daily aspirin may have a lower PSA level due to the effect of the medicine on the blood protein count.
Before you are tested, it's imperative to tell your physician everything that you are taking, or any other health conditions or symptoms that you are experiencing. Additional more detailed testing includes transrectal MRI or transrectal ultrasound, as well as biopsies.
MRI use in the diagnosis of prostate cancer is increasing and brings added value to screening and surveillance, according to studies presented during the 2018, 113th Annual Meeting of the American Urological Association (AUA). Four studies showed the effectiveness of MRI in the diagnosis and treatment of prostate cancer.2
Because additional testing with MRI helps to accurately diagnose, this helps to avoid unnecessary surgery and treatment if it's not needed. It also can detect very tiny tumors, leading to early diagnosis and better outcomes.
Not all Imaging Centers Are Equal
It's not uncommon for patients to get a referral from their doctor to have imaging done at a particular facility, but how do these patients know that they're going to an imaging center with the latest advanced technology, thorough technologists, and subspecialty radiologists? Subspecialty radiologists are doctors that are trained in various specialties, just like other medical professionals with additional years of study and clinical experience.
At Radiology Regional, they take your health personally. They have a group of in-house, subspecialty, fellowship-trained radiologists that are experts in diagnosing and detecting conditions within the abdominal and pelvic areas, including the prostate. The machines they invest in are not standard; these are state-of-the-art, high-tech imaging equipment that can find even the most intricate details that would otherwise be missed.
Radiology Regionals has a high-resolution prostate MRI to find small prostate cancers, a dynamic MRI to diagnose pelvic organ prolapse, MRI technique to accurately stage rectal cancer for surgical planning, specific protocol to best evaluate the ovaries and uterus and another MRI technique to focus on the bones and muscles, among several others. All imaging exams are not equal, and Radiology Regional goes above and beyond to offer high-quality studies to help guide medical management.
Not all centers can provide this level of care, as some may use third-party radiologists and may not have access to subspecialty trained doctors. Radiology Regional stays up-to-date on technology and reinvest in our facilities because patient's lives depend on us.
Their Technology
Radiology Regional has multiple state-of-the-art 3 Tesla MRI machines, which are excellent for diagnosing bowel conditions with enterography exams, staging rectal cancer for surgical planning and detecting prostate cancers at their early stages.
Radiology Regional Center
For over 40 years, Radiology Regional has served the community as the premier imaging center. Radiology Regional Center has twelve, full-service locations in Lee and Collier Counties. Their dedicated team of board-certified radiologists, registered technologists, and other specialists are committed to providing patients with exceptional care utilizing the most advanced technology and techniques available in modern medicine.
Ask your physician to refer you to Radiology Regional Center for your imaging needs. Make your choice the best choice for you!
References:
American Cancer Society, "Key Statistics for Prostate Cancer: How common is prostate cancer?" cancer.org 2019, https://www.cancer.org/cancer/prostate-cancer/about/key-statistics.html
American Society of Clinical Oncology, "AUA 2018: Use of MRI for Prostate Cancer Screening and Management" 5/29/2018, https://www.ascopost.com/News/58881
Contact Radiology Regional today at
(239)-936-4068 (Lee) | (239)-430-1513 (Collier)
(239)-425-4678 (Español)