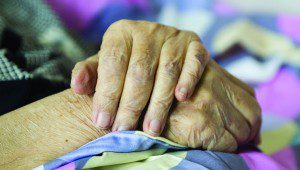 Few of us are comfortable talking about death, whether our own or a loved one's. It is a scary, even taboo, subject for many.
The end of a life, no matter how long and well lived, can bring with it a sense of loss and sadness. It can also be a reminder of our own mortality, so we may avoid even thinking about death.
This is normal — but death is normal, too. All of us will face it at some point and it is better to be prepared for the end of life events than to figure it all out when dealing with the emotions while it is happening.
Below are important topics to consider when preparing for a loved one to die.
Hospice Care
Hospice is traditionally an option for people whose life expectancy is six months or less, and involves pain and symptom relief rather than ongoing curative measures, enabling you to live your last days to the fullest, with purpose, dignity, grace, and support. While some hospitals, nursing homes, and other health care facilities provide hospice care onsite, in most cases hospice is provided in the patient's own home. This enables you to spend your final days in a familiar, comfortable environment, surrounded by your loved ones who can focus more fully on you with the support of hospice staff.
Palliative Care
Unlike hospice care, you do not have to be dying or give up curative treatments to receive palliative care. The term "palliative care" is sometimes mistakenly used to mean end-of-life care, but palliative care is a treatment available to anyone of any age who is suffering from the discomforts, symptoms, and stress of a serious illness.
Palliative care is used effectively to provide relief from many chronic conditions and their treatments, too. Older persons who are living with one or more chronic illnesses may benefit from palliative care long before they need end-of-life or hospice care. Unlike hospice care, palliative care may be used for as long as necessary.
Regardless of a person's choices for treatment and care at the end of life, it is important to maintain the quality of a dying person's life.
When asked, many people say they would prefer to die within the comfort of home. Making this last wish a reality is not always as simple as it sounds. The patient's condition, the caregiver's situation, and the medical equipment needed are three tings that must be considered.
Although no two patients or situations are the same, specialists recommend the following preparations and equipment when preparing for a loved one to die at home.
• Make room for the bed in a convenient room for the patient. A hospital bed is a great option if it is determined it would be beneficial for the patient.
• Hang curtains where needed for privacy.
• Arrange to get mobility supplies such as walker, canes, and wheelchairs.
• Ensure restroom is clutter-free with room to move around and safely equipped with appropriate benches and grab bars.
• Install adequate lighting in all areas accessible by the patient.
• Consider obtaining an oxygen tank and a pain pump for patients who may need them.
As difficult as it may seem, talking about and preparing for a dying loved one ultimately makes both the patient and the caregiver as comfortable as possible in those final days.
DeAnn Kamp
239.398.5527
www.DeAnnSellsFloridaRealEstate.com