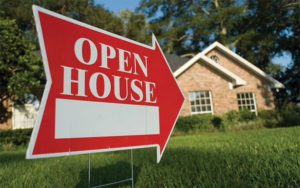 So you've decided to sell your home, or at least thinking hard about the possibility. Now what?
As part of the process of selling your home, prospective buyers will be touring your home to see if they are interested in owning the home.
In order for someone to buy your home, two things must happen. First, buyers need to appreciate the value of the home, and secondly they need to picture themselves living there. The best scenario for this to happen is to see the home at it's best. Take some time to consider some of these helpful hints that can reduce your selling time and land you the deal you are looking for in this competitive market.
1) Before each showing make sure the home is clean and clutter free. If the prospective buyer has to first visually remove you and your family from the home and then picture themselves living there it becomes a two step process that many buyers aren't able to do.
2) Consider staging your home. You can make your move sooner with staging your home to sell. Staging companies can help with the removal of clutter and transition your belongings effortlessly.
3) Buyers are very curious. The more serious they are about buying your home, the more deeply they will look. Expect that closets, medicine cabinets, kitchen cabinets and drawers will be opened. Expect buyers to go into the attic, or outbuildings. Anything that comes with the home, they will want to fully inspect. Buyers will not open furniture drawers or personal bags, backpacks or briefcases. These are great places to store items listed below as "remove from view".
4) Remove dangerous items from view. Handguns, rifles or any other weapons should ideally be removed from the home, but if that is not feasible, they should, at the very least be locked in a secure box or case out of view. This is for the safety of all.
5) Remove religious, political, or controversial items from view. In order to attract the largest pool of buyers, it is best to not exclude anyone as a prospective buyer. This means the removal of items of a religious or political nature. By the same token, some people are sensitive to animal rights and firearms, so items that are controversial in nature should also be considered.
6) Remove clutter. Any items that detract a potential buyer from noticing all of the wonderful features of your home such as excessive rugs, collectibles, and too many items on surfaces, will be distracting to the buyer.
In addition, you may wish to consider making a move to an all-inclusive luxury rental community, such as Campo Felice, where you can live a maintenance-free lifestyle without the hassles of home ownership. Enjoy resort style living with an abundance of amenities for one low price each month. This would also include meals, housekeeping & linen service, concierge, valet, private transportation, utilities, and a robust social and activities calendar for our 55 and older residents. If you are looking to make a move to a senior lifestyle community without the burden of high priced community fees or high interest mortgages, consider Campo Felice as a next move. Mention this article and receive discount pricing on several of our stunning models.
To learn more about this hidden senior living secret, call us at 239-935-5029 or visit us online at www.LiveatCampoFelice.com.
Additional tips for a successful showings:
• Turn on all the lights inside
• Turn on outside lights if any of the showing will take place after dark
• Turn on the TV or audio system to a music channel; Jazz, Soft Rock, Classical or Standards is recommended
• Make time to Campo Felice to learn more about all-inclusive living in Fort Myers for as low as $1,995 per month
• Remove from view and lock any weapons or valuables
• Remove from view any medications.
• Remove from view any pet food or water dishes
• Clean and hide litter boxes
• Remove pets from the home, if at all possible
• Remove from view any personal documents
• Open the door to the basement and attic, if applicable
• Turn heat to 70 or A/C to 68 if applicable
• Remove from view all clutter from counters, tables, dressers, desks, vanities etc.
• Make all the beds
• Remove from view all personal items in the bathrooms
• Wipe down any water from sink, tub and shower
• Hang fresh towels in the kitchen and baths
• Remove from view all family photos
• Remove from view any religious articles
• Remove any taxidermy
• Put away garden tools, hoses, lawn movers, shovels etc
• Open all blinds, curtains, shutters etc.
• Pull weeds and keep the lawn mowed and watered where applicable
• Remove solar cover from pool, where applicable
• Open patio umbrellas and put cushions on outdoor furniture where applicable
• Purchase a few plug-in air fresheners and locate them discreetly throughout the home. Clean scents such as linen or cotton are advised
• If there is a strong odor purchase an odor eliminator product such as Gonzo Odor Eliminating Crystals, available at home improvement stores or on Amazon. Locate them discreetly in a vessel, not the bag it comes in!
• Remove any unhealthy plants or plants that block windows or architectural features
Campo Felice
(239) 935-5029
www.LiveatCampoFelice.com