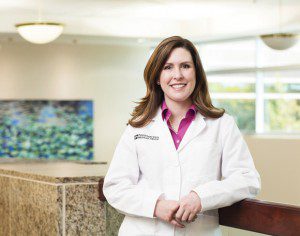 At the Physician's Regional Comprehensive Breast Health Center, our entire approach to care has been designed with the specific needs of women in mind. The Breast Health Center is under the medical direction of Dr. Sharla Gayle Patterson, a board certified and fellowship trained breast surgeon. Dr. Patterson and Lynn Hurley, the Certified Breast Health Navigator, work together with each woman to provide outstanding clinical care for all breast concerns and abnormalities, from painful breasts to the diagnosis and treatment of breast cancer.
The center offers sophisticated breast care technologies, including digital mammography, breast MRI stereotactic and ultrasound-guided biopsy. Patients typically have many questions about breast care and screenings, abnormal results, a cancer diagnosis and treatment. When breast cancer, or other conditions are diagnosed, Lynn coordinates all aspects of patient care. As a Breast Health Navigator, she will provide you with the peace of mind that comes from having an experienced and caring clinician guiding you through treatment and recovery.
The Breast Health Navigator provides invaluable services to all patients, including:
• Ensures seamless and efficient care throughout a patient's journey by serving as a single point of contact for referring physicians, patients, and caregivers to provide resources and assistance with accessing clinical and supportive care services offered within the community.
• Facilitates patient appointments, including those made with labs, diagnostic areas, and specialty physicians.
• Assist patients in understanding their diagnosis, treatment options, and the resources available, including educating eligible patients about appropriate clinical research studies and technologies.
• Serve as an essential link between patients and all other care providers.
• Follow patients throughout the care continuum, including inpatient admissions, and collaborate with inpatient care management resources.
"My job as the Breast Health Navigator is to provide patients with seamless and timely coordination of their clinical, educational, and supportive needs as they progress through breast health diagnosis and treatment," Lynn explained. "The services I provide are available to every woman in Collier County who seeks treatment at the Physician's Regional Comprehensive Breast Center. There are many programs available to help support women through breast abnormalities and we can help you navigate through all of the paperwork to ensure you receive the quality care you deserve. Our level of emotional support throughout a woman's breast health journey is an important part of treatment and recovery."
Dr. Patterson is certified by the American Society of Breast Surgeons in Breast Ultrasounds and provides surgical mapping of breast lesions, ultrasound-guided biopsy, and percutaneous excisions of benign lumps in a private office suite.
For more information on the services available at the Comprehensive Breast Health Center, please call 239-348-4396.
Breast Surgery Now Available!
Sharla Gayle Patterson, M.D., MBA (HOM), FACS – Breast Surgeon
At Physicians Regional, we are pleased to welcome Sharla Gayle Patterson, M.D., MBA (HOM), FACS, board certified general surgeon and fellowship trained breast surgeon, to our team of specialists.
Dr. Patterson earned both her Doctor of Medicine and Master of Business Administration degrees from the Health Organization Management program at Texas Tech University. She completed a Society of Surgical Oncology Breast Surgery Fellowship at Emory University, and her general surgical internship/residency at the University of South Alabama.
Dr. Patterson is a fellow in the American College of Surgeons and is active in the Society of Surgical Oncology and the American Society of Breast Surgeons. She is certified in breast ultrasound by the American Society of Breast Surgeons, and is a reviewer for the scientific journal Cancer.
Dr. Patterson's current research interests include breast cancer and obesity. Specifically, she is focused on identifying the biologic link between obesity and breast cancer prognosis. Other interests include quality of life in breast cancer survivors.
Dr. Patterson's former positions include Assistant Professor and Associate Program Director at the University of Mississippi in Jackson, Mississippi, where she won the Fred W. Rushton, Jr. Faculty Teaching Award.