At 94 ½ years old, Edith Fedelem isn't slowing down. In fact, The Carlisle Naples resident is inspiring her neighbors and showing that age is just a number.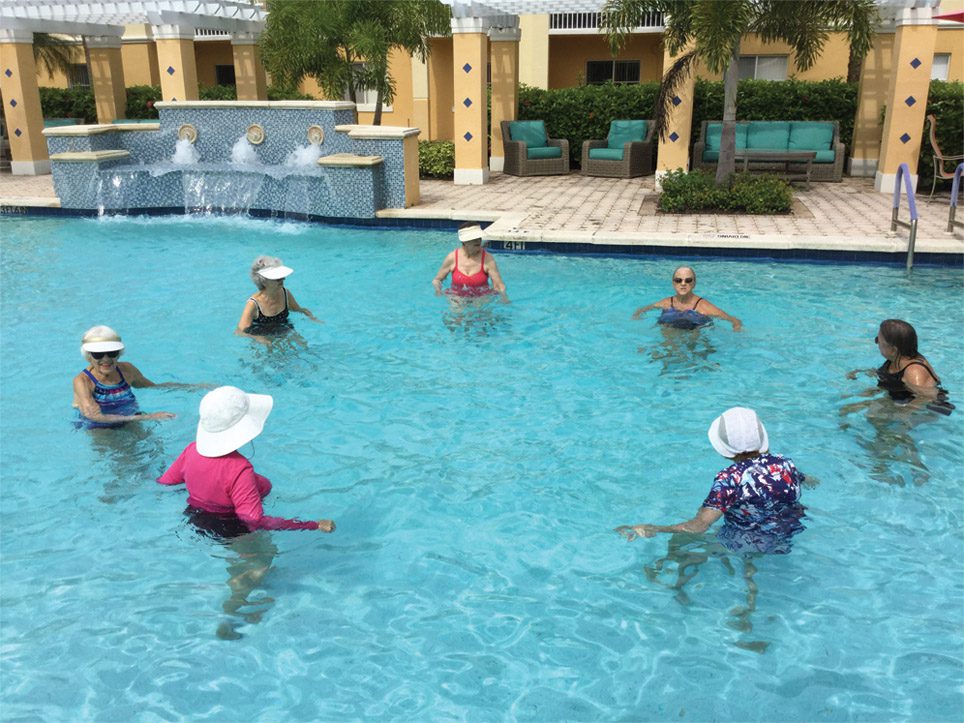 Fedelem, who has lived in Naples for over 40 years, credits the maintenance-free lifestyle with enabling her to continue fitness regimen which includes Water Aerobics and Chair Exercise classes. She moved to The Carlisle in 2018 and says the wealth of services and amenities along with the freedom from maintaining a home were among reasons she and her family selected the community.
"I've always enjoyed exercising," said the former bookkeeper and secretary. "Living at The Carlisle certainly makes it much more convenient to work out."
She's reaping the many health benefits often associated with an active lifestyle such as better bone density, reduced risk of stroke and heart attack, prevention or delay of diseases such as diabetes and improved confidence and independence.
The National Institutes of Health reports that being physically active on a regular basis is one of the healthiest things we can do for ourselves. Studies have also shown older adults can gain a lot by staying physically active. Even moderate exercise and physical activity can make a big impact.
In addition to taking advantage of the opportunities for physical activity, Fedelem keeps her brain sharp by socializing with neighbors and participating in activities included on The Carlisle's robust monthly calendar. A fulltime Zest Director is charged with overseeing the community's Zest program which caters to residents' mind, body and soul.
"The people here are so friendly," she said. "I especially look forward to playing Rummikub on Mondays."
Research shows that in addition to the social aspect of the game—a component of successful aging—the act of playing can have a positive impact of health including reducing the risk for dementia, boosting the immune system and improving coordination and dexterity.
"People often associate brain-boosting activities with trivia and puzzles, but there are so many other ways to give the brain a workout," said Zest Director Mary Beth Baxter. "Classes like our Tech Buddys which teaches residents to use their iPads and smart devices and our most recent addition, Happy Harmonica, taught by Glenn Basham, Concertmaster of the Naples Phil, are great ways to increase the brain's cognitive reserve."
Diet also plays a significant role in overall health and longevity. Dan Buettner, author of "The Blue Zone Solution," found that people who live in the Blue Zones—five regions in Europe, Latin America, Asia and the U.S. that have the highest concentration of centenarians—ate a mostly plant-based diet.
The Carlisle recently added a FreshZest initiative which encourages a plant-based, whole-foods diet that has been shown to offer numerous health benefits and may even reverse some chronic ailments, particularly in older adults. FreshZest is part of the expansive dining choices available in the community's restaurant, The Carlisle Room.
FreshZest is about making healthier choices like replacing white rice with brown rice or quinoa; opting for whole-grain bread instead of white bread; or choosing water instead of sugary drinks.
It's been a great addition to The Carlisle's menu options, with residents exploring FreshZest signature dishes such Artichoke with Cremini Mushroom Eggplant Cannelloni, Crispy Bean Chimichanga, Potato and Spinach Gnocchi, Pad Thai Spaghetti Squash and a Caprese Stuffed Avocado.
"The food is excellent! That must be why there are so many wonderful fitness classes to help us maintain a healthy weight," said Fedelem with a laugh.
Located at 6945 Carlisle Court in Naples, The Carlisle offers spacious one-and two-bedroom residences, weekly housekeeping and flat linen services, basic cable TV, all utilities except telephone, and a complimentary full breakfast plus choice of lunch or dinner in the community's gourmet-style restaurant. For more information about the community, please call 239-221-0017 or visit www.TheCarlisleNaples.com.
Luxury Rental Retirement Living
6945 Carlisle Court, Naples, FL 34109
239-221-0017 . www.srgseniorliving.com