By Carl McAloose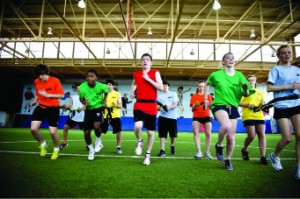 We all remember having PE in school. I dare say that when asked what your favorite part of the school day was, many of us said "PE." And why not? PE was fun. You got to play games, jump, run and best of all, you weren't sitting at your desk. You got to burn off that extra energy, and that made being in the classroom easier. Study after study shows the correlation of physical activity, whether it's PE, sports or just riding your bike around your neighborhood, helps improve your overall health. These studies also show that physical activity helps you mentally.
The annual Sports & Fitness Industry Association survey found that over 21 million youth ages 6-17 play team sports on a regular basis, with an additional five million occasionally involved in sports. We all know that regular physical activity provides many benefits, like maintaining healthy muscles, bones and joints, not to mention helping with your weight. Your doctor tells you this and more each year when you have your physical.
For our kids, playing sports means they are eight times more likely to still be active at the age of 24 compared to those who don't participate in sports. (Perkins study). The benefits extend to academics. Several studies have concluded that physical activity helps improve academic achievement, from grades to standardized test scores. Think about it. Don't you feel more relaxed and focused after physical activity? It's easier to concentrate and learn.
Additionally, studies have shown that physical activity can also positively impact our youth in the areas of self-esteem, goal-setting and leadership. As a parent, just spending some time with your kids playing catch, shooting baskets or any other sport or game gives you quality time with them in a fun setting. It also sets a good example of the importance of physical activity.
Kids who participate in sports learn to manage their time better. They get an extra sense of confidence because they can balance the demands of school and sports. Playing a sport also teaches them the value of teamwork, cooperation and leadership.
The benefits of sports are more than physical. They are also mental. Studies show physical activity can help with things like improving your mood. Whether you like to play sports, work out in the gym, or take your dog for a brisk walk, physical activity helps stimulate brain chemicals that make you feel more positive.
We all have some level of stress in our lives. Too much of that can lead to many problems, both mental and physical. When you're exercising, you help reduce your levels of stress hormones – namely adrenaline and cortisol. Physical activity helps distract your mind from negative thoughts, which allows you to think more creatively.  Simultaneously while exercising, your body produces endorphins, which naturally make you feel happier and relaxed.
Studies have also shown that regular physical activity helps improve your level of concentration. Mental skills such as thinking, using good judgment and learning stay sharp as you age if you do a mix of aerobic and muscle-strengthening activities. And those types of activities are common in sports!
I know that when I exercise, I sleep better. We know that exercise helps you relax and get rid of stress and tension, so it makes sense that would help you get a good night's sleep.
As a parent, all three of my children have been involved in sports in some form. I have seen how it has helped them not only physically, but also academically, mentally and socially.
Not every child participating in sports will go on to be a professional athlete, but they will all treasure the memories of family time together and the friendships they made along the way. Most importantly, they have learned that physical activity is lifelong fun!
Florida South Western State Collage
www.FSW.edu