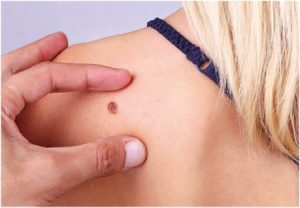 Approximately 1 in 5 Americans will develop skin cancer in their lifetime. Basal cell and squamous cell are the two most common skin cancers accounting for more than 5 million diagnosed annually. Unfortunately, many of these people will experience skin cancer more than once in their lives.
If skin cancer is caught early, it can be treated with great success, but if left untreated it can grow deeply within the tissues and potentially cause disfigurement. In rare cases, skin cancer can metastasize and grow into other organs within the surrounding area.
Although skin cancer can grow anywhere on the body, the most common area for these cancers to develop are the hands, face, ears, scalp, chest, and arms. Your best option for treatment is Mohs surgery.
WHAT IS MOHS SURGERY?
Mohs surgery is a precise treatment used to microscopically detect the margins of a tumor, preventing excess tissue from being removed. During Mohs surgery your specially trained dermatologist will remove the tumor with minimal surrounding border, which is then sectioned, cryo-frozen, and stained for examination under a microscope. Each layer is removed with an extremely conservative, precise approach to making certain that the cancer cells are completely removed, as well as minimizing any extreme surgical cutting.
BEING MOHS FELLOWSHIP TRAINED IS CRITICAL
Mohs surgery by a fellowship-trained surgeon has the highest cure rate and lowest recurrence rate of all other skin cancer treatment options. The key difference is in the extensive training. Fellowship training is the key. While any dermatologist may offer to perform Mohs surgery, only Fellows of the American College of Mohs Surgery (ACMS) have undergone rigorous fellowship training. Mohs Surgery Fellows are chosen through a highly competitive
selection process and are required to complete an intensive 1 or 2-year post-residency ACMS fellowship training program. Becoming a Fellow of the American College of Mohs Surgery is a qualification earned by less than 8% of all dermatologists nationwide.
Rebecca W. Lambert MD, one of the founding members of The Woodruff Institute, and Kathryn J. Russell MD are fellowship trained Mohs Surgeons. Under their care, you will receive the best outcome of removal and tissue preservation. Along with their expertise, the Woodruff Institute also is home to Jonathan E. Sonne, MD, also a founding member of the Woodruff Institute and a fellowship trained and board certified Facial Plastic and Reconstructive surgeon. Our patients receive the precision of a Mohs Surgeon and the aesthetic expertise of a Facial Plastic Surgeon for the treatment of their skin cancers to give the best possible results.
WOODRUFF INSTITUTE
FOR DERMATOLOGY & COSMETIC SURGERY
At the Woodruff Institute for Dermatology & Cosmetic Surgery, all of their practitioners encourage all of their patients to get their yearly skin examinations and to also perform at home exams, looking for any suspicious areas that potentially could be a sign of skin cancer.
The symptoms to look for in moles or lesions are outlined in this simple acronym, ABCDE:
A-    Asymmetry
B-    Border Irregularity
C-    Color-Variegated or a Halo Effect
D-    Diameter (>6 mm)
E-    Evolving
In Addition to the symptoms above, there are supplementary signs to look for, which include:
A-    Amelanotic (Pink or Red Lesion)
B-    Bleeding/Bump (Raised Lesion)
C-    Color Uniformity
D-   De Novo Development (A New Development <6mm)
Their approach to skin cancer is proactive, preventive and prescriptive. With office locations in Naples, Bonita Springs, Estero and the Fort Myers area, the Woodruff Institute for Dermatology & Cosmetic Surgery continuously educates the local community to avoid sun exposure and to always use effective sun protection. The best way to identify potential skin cancer is through annual full-body skin examinations with qualified medical professionals. Because it's nearly impossible to look at your own skin in its entirety, and unfortunately skin cancers can hide from sight or be mistaken for harmless skin growths, it's essential to see a dermatologist regularly.
Because early detection is the key to successful treatment, they continue to emphasize the importance of regular screenings, knowing that proactive prevention and early detection continue to be the smartest strategies.
To find out more about their expertise, please visit them at the following website www.thewoodruffinstitute.com, or call 844-485-0104
THE WOODRUFF INSTITUTE DERMATOLOGY + FACIAL PLASTIC SURGERY LOCATIONS:
NAPLES
2235 Venetian Court, Suite 1, Naples, FL 34109
DOWNTOWN NAPLES
671 Goodlette Road North
Suite 160, Naples, FL 34102
BONITA SPRINGS/ESTERO
23471 Walden Center Drive
Suite 300, Bonita Springs, FL 34134
FORT MYERS
14440 Metropolis Avenue,
Suite 102 Fort Myers, FL 33912