By Todd D. Smith, MPT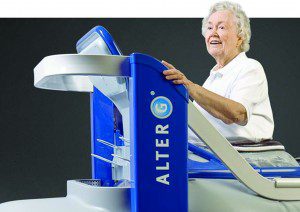 Every year many Americans make New Year's resolutions for an increased commitment to exercise.  We do this because we understand the importance of exercise to maintain a healthy lifestyle.   For those diagnosed with Parkinson's Disease, the importance of exercise is even more crucial because regular exercise with an exercise program designed to target symptoms of Parkinson's disease can decreaase postural impairments, improve flexibility, improve gait (walking pattern), decrease fall risk, and overall improve functional mobility and independence.
Parkinson's disease symptoms are caused by the loss of dopamine producing cells in the brain which result in an inability to control normal movement.  The cause of this cell death is yet unknown.  The primary treatment is pharmacological intervention with medications to replace the lost dopamine and maintain existing levels of dopamine.  Other treatments include Physical therapy, Occupational Therapy, Speech Therapy, proper diet, and home exercise and walking programs.
Strengthening and stretching are an important component of an exercise program to help correct postural instability, decrease shuffling gait, and improve overall mobility.
One of the symptoms of Parkinson's is postural instability, which presents as a stooped over posture, with forward flexed head, shoulders and trunk, flexed hips and knees, all pulling the body's center of mass forward in front of the feet. This leads to a shuffling gait pattern known as festination, which increases risk of falls.  By stretching the shortened tight muscles and strengthening the elongated weak muscles of the body we can help correct the muscle imbalances which cause these postural impairments.
These exercises accompanied with a walking program with emphasis on compensatory strategies specific to parkinsonian gait, can help decrease risk of falls, improve functional mobility, and even slow the progression of the symptoms of Parkinson's disease.
Here at LifeCare Center of Estero, we offer skilled therapeutic intervention with physical, occupational, and speech therapies and a variety of modalities including electrical stimulation called PENS (Patterned Electrical Nerve Stimulation) to re-educate the muscles on how to contract/relax appropriately followed with stretching and strengthening exercises of the appropriate muscle groups to correct postural instability.  We also have the Alter G anti-gravity treadmill for decreasing gait impairments (shuffling walking pattern) in a safer environment.
Todd D. Smith, MPT is a licensed Physical Therapist and Assistant Director of Rehabilitation with LifeCare Center of Estero.  He has trained with the Allied Health Training / National Parkinson's Foundation and lectured for The American Parkinson's Disease Association in Las Vegas, Nevada.  He lives in Lehigh Acres and has been specializing in Physical Therapy with Parkinson's since 2004.
Come join our free monthly Pro-Active Parkinson's Exercise classes sponsored by LifeCare Center of Estero are held the third Saturday of the month from 1:00 – 2:00 PM at LifeCare Center of Estero Outpatient Department, 3850 Williams Rd. Estero Fl.  Call 239-495-4046 to sign up.
239.495.4000 | 3850 Williams Rd. | Estero, FL 33928 | www.LCCA.com