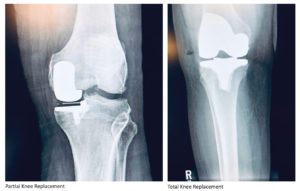 Millions of Americans suffer from arthritis in the knee each year. This is a condition in which the cartilage of the joint wears away, causing the knee to become inflamed, stiff and painful. Often times, engaging in strenuous activity may increase one's discomfort, limiting athletic activities and affecting quality of life.
Dr. Mark Farmer has been practicing in Southwest Florida for more than 20 years, specializing in the treatment of knee arthritis. Depending on the stage of the disease, Dr. Farmer explores many treatment options. Typically, conservative (non-surgical) treatments are first administered. These treatments include physical therapy, cortisone injections, pain relievers, or viscosupplementation (lubricating injections). If conservative treatment does not provide adequate pain relief, surgical intervention is then considered. Commonly, patients will require either a partial or total knee replacement.
The knee is composed of three compartments: lateral, medial and patellofemoral. Arthritis often presents in only one of these three compartments without affecting the rest of the joint. Partial knee replacement is an excellent option for these patients whose arthritis (and pain) is isolated to only one side of the knee. Unlike a total knee replacement, patients receiving a partial knee retain all of their natural ligaments and only one side of the knee is resurfaced with implants. The healthy aspect of the knee is completely left alone. Accordingly, the implant is much smaller and up to 75% less bone and cartilage is removed. This results in more natural motion after surgery and a quicker, less painful recovery.
Dr. Mark Farmer specializes in both total and partial knee replacement surgery. If a patient is a good candidate, Dr. Farmer will perform a partial knee arthroplasty, preserving much of the patient's natural anatomy. He performs most partial knee replacements in the surgery center setting and allows his patients to return to the comforts of their own home on the same day as surgery.
After surgery, a home health care professional will visit the patient's residence to assist with any medical needs and ensure the patient is comfortable. Typically, it is suggested that patients use a walker for 2-3 days, followed by the use of a cane. Dr. Farmer notes that the majority of his partial knee patients are no longer using any assistive devices at their two week follow up appointment in his clinic. Roughly 80% of Dr. Farmer's partial knee patients do not require any formal physical therapy. Very few restrictions are placed on these patients post operatively, allowing daily activities to commence shortly after the procedure.
MARK E. FARMER, M.D. is a Fellowship Trained Fort Myers Orthopedic Surgeon Specializing in Arthroscopic Surgery of Shoulder and Knee. Dr. Farmer specializes in arthroscopic and reconstructive surgery of the shoulder and knee, in addition to primary joint replacement of the hip, knee, and shoulder. He also has extensive experience in the treatment of fractures. Dr. Farmer was the first physician in the area to perform an Osteochondral allograft transplant for the treatment of cartilage defects in the knee. Currently he is one of the only Fort Myers surgeons who routinely performs full arthroscopic rotator cuff repair.
239-482-2663 | www.ocfla.net
12670 Creekside Lane, Fort Myers, FL 33919