Courtesy of Orthopedic Center of Florida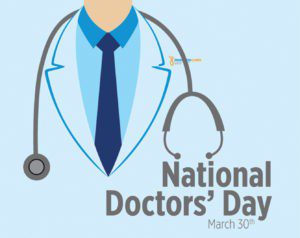 History of National Doctors' Day
National Doctors' Day is held every year on March 30th in the United States. It is a day to celebrate the contribution of physicians who serve our country by caring for its' citizens. The first Doctors' Day observance was March 30, 1933, in Winder, Georgia. Eudora Brown Almond, the wife of Dr. Charles B. Almond, decided to set aside a day to honor physicians. This first observance included the mailing greeting cards and placing flowers (red carnations) on graves of deceased doctors. On March 30, 1958, a Resolution Commemorating Doctors' Day was adopted by the United States House of Representatives. In 1990, legislation was introduced in the House and Senate to establish a National Doctors' Day. Following overwhelming approval by the United States Senate and the House of Representatives, on October 30, 1990, President George Bush signed S.J. RES. #366, (which became Public Law 101-473), designating March 30th as "National Doctors' Day."
A Day Moves Into a Week
In 2015, the group known as Physicians Working Together spearheaded the extension of National Doctors' Day to a full week. This allows not only colleagues and staff to share their appreciation of physicians but also the patients that are cared for by them and their families.
Why Celebrate Physicians in Such a Way?
Doctors are often undervalued and seen as elitists, but the truth is most physicians gained interest in becoming a healthcare professional to help others, to care for them, and to increase patient's longevity and quality of life. Did you know that most doctors have between 11 and 14 years of higher education? Did you know that it can also take upwards of 15 to 30 years for the majority of physicians to pay off their student loans? During residency, physicians scarcely sleep, and what may come as a surprise to many is, most established doctors do not sleep well either, due to being on call and working 60 to 80 hours per week. Along with patient care, doctors are continually studying new technologies, procedures, perusing clinical trials, and evaluating new drug therapies.
Learn How You Can Celebrate Your Doctors.
You can give the traditional red carnation or leave a note or a small gesture of your gratitude, but knowing the heart of the majority of doctors, what they genuinely appreciate is a kind word of thanks for their dedication to your health and wellbeing.
Orthopedic Center of Florida
At the Orthopedic Center of Florida (OCF), their team of skilled orthopedic specialists strives to meet all of your orthopedic, pain management, podiatry, and rehabilitation needs. They are committed to providing the utmost care in orthopedic and sports medicine services. At Orthopedic Center of Florida, you will find an array of orthopedic services such as Digital X-Rays, Diagnostic Testing, Robotic Laser Therapy, EMG/NCV, and more.
Orthopedic Center of Florida's treatment goals are joint preservation, quick recovery, and safeguarding patients from permanent injuries. They specialize in arthroscopic, minimally invasive, and surgical procedures of the shoulder, knee, hip, hand, wrist, elbow, foot, ankle, and pain management. They also treat a vast array of general orthopedic conditions such as carpal tunnel syndrome, trigger finger, fractures, cysts, tendonitis, and arthritis, among others.
Their highly-skilled team of specialists are focused on service, excellence, and patient satisfaction. The physicians at OCF work hard to get you active again by ensuring that a patient's path to recovery continues long after their care is complete.
The Orthopedic Center of Florida's
Highly-Regarded Physicians
ORTHOPEDIC DOCTORS:
MARK E. FARMER, M.D.
JOHN N. MEHALIK, M.D.
HAND SPECIALISTS:
SANDRA B. COLLINS, M.D.
ALICIA F. COWAN, M.D.
RONALD LEAVITT, M.D.
PAIN MANAGEMENT SPECIALISTS:
ANDREW M. GROSS, M.D.
GEORGE I. SOLIMAN, M.D.
PODIATRISTS:
ANDREW M. BELIS, D.P.M.
PATRICIA NICHOLAS, D.P.M.
PHYSIATRY:
JACLYN GOROVOY HOLT, D.O.
At the Orthopedic Center of Florida, they take a multidisciplinary approach to sports medicine and orthopedic surgery, putting the patient first, and providing a full explanation of the injury and all possible treatment options. Their commitment to treating each patient with respect and great care, both medically and emotionally, sets new standards in orthopedics. Building loyal interactions with all of their patients are just as rewarding to the OCF physicians, as their dedication to highly skilled treatment options.
To schedule your appointment, please call 239-482-2663, or to find out more, please visit www.ocfla.net.
Orthopedic Center of Florida
239-482-2663 | www.ocfla.net
12670 Creekside Lane, Fort Myers, FL 33919
Source:
https://www.doctorsday.org