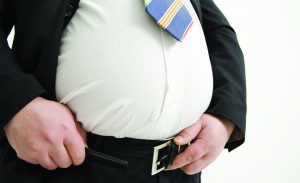 Nearly 70% of American adults are either overweight or obese. Being obese puts you at a higher risk for health problems such as heart disease, stroke, high blood pressure, diabetes and more.
Obesity is defined simply as too much body fat. Your body is made up of water, fat, protein, carbohydrate and various vitamins and minerals. If you have too much fat — especially around your waist — you're at higher risk for health problems.
Being obese can:
• raise blood cholesterol and triglyceride levels.
• lower "good" HDL cholesterol. HDL cholesterol is linked with lower heart disease and stroke risk, so low LDL tends to raise the risk.
• increase blood pressure.
• induce diabetes. In some people, diabetes makes other risk factors much worse. The danger of heart attack is especially high for these people.
Obesity harms more than just the heart and blood vessel system. It's also a major cause of gallstones, osteoarthritis and respiratory problems.
The Effect of Obesity on Heart Disease
There is a strong correlation between heart disease and obesity. The more overweight a person is the more likely he or she is to develop heart disease. Obesity also contributes to several risk factors for the condition, such as high blood pressure and high cholesterol.
It is hard to overstate the dangers of an unhealthy weight. If you are overweight, you are more likely to develop forms of heart disease, such as heart attack, congestive heart failure, sudden cardiac death, angina (chest pain), and abnormal heart rhythm, even if you have no other heart disease risk factors.
Also, people who are overweight or suffer from obesity are more likely to have higher blood levels of substances that cause inflammation. Inflammation in blood vessels and throughout the body may increase the risk for heart disease.
You can determine if you are overweight by calculating your body mass index and waist circumference.
Determine Your BMI
Body mass index, or BMI for short, is a tool that is used to measure a person's weight status. To calculate BMI, only a person's weight and height are required. Because of this simplicity, BMI is the most routinely used method to measure a person's weight status.
A BMI from 18.5 to 24.9 indicates a normal weight. A person with a BMI from 25 to 29.9 is overweight. People with a body mass index (BMI) of 30 or higher are considered obese. The term "obesity" is used to describe the health condition of anyone significantly above his or her ideal healthy weight. Don't be discouraged by the term. It simply means you are 20% or more above your ideal weight, and you are not alone.
Determine Your Waist Circumference
The second step is to take your waist measurement. For women, a waist measurement of over 35 inches increases the risk of heart disease, as well as the risks of high blood pressure, diabetes, and other serious health conditions. For men, a waist measurement of more than 40 inches increases these risks. To measure your waist correctly, stand and place a tape measure around your middle, just above your hipbones. Measure your waist just after you breathe out.
Assessing Your Risk
Once you've taken these three steps, you can use the information to decide if you need to take off pounds. While you should talk with your doctor about whether you should lose weight, keep these guidelines in mind:
• If you are overweight (BMI of 25 to 29.9) and have two or more other risk factors, or if you are obese (BMI greater than or equal to 30), you should lose weight.
• If you are overweight, have a high waist measurement (over 35 inches for a woman; over 40 inches for a man), and have two or more other risk factors, you should lose weight.
• If you are overweight but do not have a high waist measurement and have fewer than two other risk factors, you should avoid further weight gain.
If you need to lose weight, here's some good news: A small weight loss — just 5 to 10 percent of your current weight — will help to lower your risk for heart disease and other serious medical disorders. The best way to take off pounds is to do so gradually by getting regular physical activity and eating a balanced diet that is lower in calories and saturated fat. For some people at very high risk, medication also may be necessary.
Those in the overweight and obese categories have a higher risk of heart disease — and the higher the BMI, the greater the risk.
Dr. Scala has been selected a Castle Connolly 2015 "Top Doctor" by a physician-led team of researchers in the field of Cardiovascular Disease.
South Cape Business Center
3208 Chiquita Blvd. S, Suite 110
Cape Coral, FL 33914
(239) 574-8463
www.flccg.com
Our Cardiologist
Dr. Louis J. Scala has been voted TOP DOCTOR four consecutive years by Castle Connolly. He received his medical degree at the State University of New York Health Science Center. He completed his Residency at Brown University, and Cardiology Fellowship at Cedars-Sinai Medical Center at UCLA. He is Board Certified in Internal Medicine and specializes in Cardiovascular Disease.