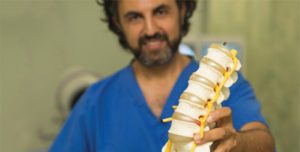 Over 116 million people suffer from various types of chronic pain disorders ranging from fibromyalgia, osteoarthritis, and neuropathy.
Very often, the pain is concentrated in the back and neck pain due to spinal conditions. Whether injury, trauma or degenerative diseases have caused your pain, the consensus is usually the same; people want their pain to go away.
The most common treatment for neck and back pain is to mask it with narcotic prescription pain medications. Narcotics like Opioids are highly addictive, and the CDC reports that nearly half of all opioid-related deaths are due to prescribed narcotics for pain related circumstances such as lower back pain, nerve, joint disorders, arthritis, and spinal injury. They also estimate that 42,249 deaths annually are related to opioid overdose, and that number is on the rise.
PRP-Platelet Rich Plasma
There is an alternative treatment that doesn't just mask the pain; it HEALS. PRP is taken from your own blood. A small sample is collected and spun down leaving the rich plasma, which can stimulate your own natural stem cells. The blood plasma and platelets are aspirated from either the patient's tissues (from a well-nourished area), and then injected into the injured region under X-ray guided imaging.
Over the past several years, PRP therapy has become a recommended treatment option due to its natural and proven effectiveness on various orthopedic conditions including neck and back pain.
Because our bodies naturally produce stem cells, this treatment is not perceived as foreign to our cells, and the injured joints readily accept this method of healing.
Our joints are constantly under wear and tear, which causes inflammation and injury to occur. Our own stem cells assist in the normal healing process. Stem cells can regenerate tissue growth, and signal repair to the damaged area.
Stem Cells
Many advanced conditions may require autologous stem cells, which are derived from the patient's own bone marrow. Autologous stem cells are potent and yet very safe, since they pose the least risk to the patient, as opposed to donor cells. With their high concentration of regenerative factors they are effective in extensive healing.
Autologous stem cells are full of nutrients and proteins and have the ability to reproduce and regenerate new cells throughout the body. Because they are derived from the patient's own bone marrow, they are acceptable to the whole body.
RE3 Innovative Neuroscience Institute believes that the assessment and recommendation of treatments are best accomplished by an interdisciplinary and holistic approach. They provide a comprehensive evaluation of your neck and/or back including a thorough history and physical examination. Re3 practitioners may also require further imaging or testing depending on your specific condition or symptoms. They will ask you to rate your pain and talk with you about how well you are functioning with your pain. This approach will enable them to determine where the pain is coming from and rule out more serious causes of your symptoms.
Along with PRP and Stem Cell injections, RE3 offers an on-site outpatient surgical suite with the ability to perform traditional injections such as epidural steroids, trigger points and joint injections (hip, knee, shoulder, etc.).
Surgery may be necessary for unrelenting pain that does not respond to less invasive measures. The need for surgical intervention will be determined after evaluation for problems such as spinal stenosis (narrowing of the spine) or herniated discs.
Re3 is passionate about their work and compassionate in the delivery of care they provide; they will partner with you in your quest to renew and rejuvenate your body and spirit to get you out of pain, healthy, strong, and active again.
The RE3 Innovative Neuroscience Institute
Provides the highest quality neurological treatment in the Southeastern United States, leading the medical field in brain and spine care. Combining academic research with the most sophisticated technological advancements in neurosciences, Re3 Innovative Neurosciences offers solutions for patients dealing with neurological conditions, pain, and other injuries. Their facilities are results driven, health-oriented, and designed with the patient in mind.
If you've tried other treatments that have failed you and you want a drug-free alternative that works internally to regenerate and heal your painful condition, please call Re3Healing today at (941) 893-2688, or visit their website at re3neuroscience.com.