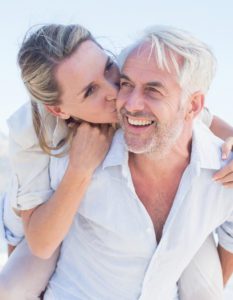 Our office specializes in the treatment of Erectile Dysfunction through the use of low-intensity shock wave therapy. Our method is a scientifically proven, non-invasive procedure that uses focused sound waves to increase blood flow to the penis, optimizing erections, sensitivity and sexual performance.
What Are Some of the Causes of Erectile
Dysfunction?
Most men who suffer from ED have vascular issues that affect blood flow to the penis. By utilizing low-
intensity focused sound waves, our method can repair aged blood vessels, stimulate the growth of new blood vessels and remove decades of micro-plaque that's been built up over time.
Are There Any Side Effects or Pain Associated
with the Treatment?
There are no side effects from our treatment. More importantly, it is completely painless, and non-
invasive as well. Patients can resume their normal activities, including sexual activity following each treatment session.
How Many Sessions Are Required for a Patient
to Achieve Optimal Results?
Our office follows European protocol and guidelines, which based on a series of clinical studies and trials recommends a total of 6 sessions, over the course of six weeks. On average, patients will start noticing results after the third or fourth treatment.
Is there a Difference Between Radial and
Focused Shock Waves?
Absolutely. Radial Shock Waves are released into the tissue and radiate within, affecting a larger area than a Focused Shock Wave does, yet not penetrating as deeply as a Focused Shock Wave. As a result, Radial Wave therapy is more beneficial for treating superficial injuries and areas that benefit from tissue stimulation such as muscles and backs. On the other hand, the energy delivery of a Focused Shock Wave is precisely controlled, the focal size is constant and penetrates a lot deeper than Radial Shock Waves do. Due to the purpose of our treatment being able to remove decades of micro-plaque, we must use a machine that uses high-frequency, focused energy that will do precisely that.
How Does it Work and How Long Will the
Benefits Last?
The Neowaves procedure breaks up plaque formation in blood vessels and stimulates the growth of new blood vessels in the penis. This process, called neurogenesis, increases blood flow to the penis, improves sexual function and enhances sensitivity in the penis. In addition, our procedure activates the growth of new nerve tissue in the penis. Effects from the treatment have been scientifically proven to last at least 2-3 years, although this can vary dependent of individual health and lifestyle habits.
Is Your Equipment FDA Approved?
Yes! Our machine is FDA approved and uses state-of-the-art technology. More importantly, it is a multi-purpose device that has been tested and proven to work in several other medical fields, including orthopedic medicine, urology, anti-aging treatments and wound healing.
For more information, please visit our website www.neowaves.com and don't forget to call us today at (239) 301-4475 or email us at info@neowaves.com to schedule your free consultation!
NEOWAVES
3301 Bonita Beach Road SW Unit 106
Bonita Springs, FL 34134
239-301-4475
www.neowaves.com