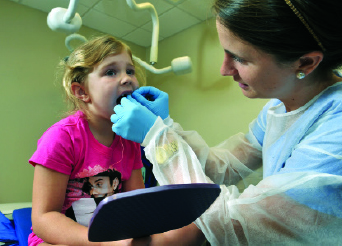 It's that time of year again! February is designated as National Children's Dental Health Month (NCDHM). It is a time when emphasis is placed on promoting children's oral health. Tooth decay is the most common chronic childhood disease according to the Academy of Pediatric Dentists. It is five times more common than asthma, four times more common than early childhood obesity, and 20 times more common than diabetes. For children ages 2 to 5, 70% of dental decay is found in only 8% of the population. Unfortunately that 8% is concentrated among socially disadvantaged children, especially those who qualify for Medicaid coverage.
Did you know that children with cavities are more likely to miss school as well as perform poorly in school? Preventive measures such as a dental prophylaxis (cleaning) every six months, dental sealants and fluoride treatments can help keep children's teeth strong and healthy. Children that are cavity-free are healthier, happier and better able to perform well at school.
"Defeat Monster Mouth" is the campaign slogan the American Dental Association (ADA) has chosen for 2015. The mouth monsters are the bacteria that cause tooth decay. How can children defend against them? Floss once a day, brush twice a day for two minutes and eat a healthy diet limited in refined processed food. It is recommended children age six or younger be supervised when tooth brushing and flossing to ensure the correct technique is being employed. The appropriate use of toothpaste should also be monitored for young children.
Give Kids a Smile Day is conducted nationwide each February. The Florida SouthWestern State College (FSW) dental hygiene clinic will be conducting its annual Give Kids a Smile Day for children age 17 and under on February 14th. The clinic's dentists, dental hygienists and dental hygiene students will be joined by local dentists and dental hygienists in providing dental examinations, cleanings, radiographs (x-rays), tooth sealants and fluoride treatments. The dental hygiene clinic is located in Building A on the first floor. Doors will open at 9:00am and services will be delivered until 3:00pm and it will operate on a "first come, first serve" basis. Tables will be set up in the hallway outside the clinic where first-year dental hygiene students will be presenting information on various topics concerning children's oral health as well as providing fun events as the children wait to be seen in the clinic.
This year the FSW dental hygiene program will graduate its 20th class! Over those twenty years there has been a rich blend of age, gender and ethnicity representing all corners of the world. From Malaysia to Russia to Cuba and countless countries in between, students have brought life experiences that enrich the learning environment at FSW.
FSW dental hygiene students provide quality care to patients of all ages in its state-of-the-art dental clinic. At a minimal fee, patients receive preventive care supervised by staff dentists and dental hygienists. In addition to clinical tasks, students provide guidance and instruction so patients can maintain optimal oral health for a lifetime. From diet choices to selection of a toothbrush or other oral-care devices, dental hygiene students are well-qualified to impart dental care. How do we know FSW dental hygiene students are well-qualified? For twenty years students have maintained a 100% pass rate on the National Board Dental Hygiene Examination (NBDHE).
Appointments can be made by phone at (239) 985-8334 or in person at the reception area in the Dental Hygiene Clinic.
Come join us and see what all the bragging is about!