Joseph Chebli, M.D., FACS, FASMBS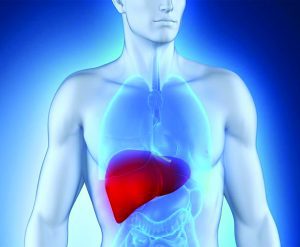 High blood pressure, heart disease, diabetes. These days, most adults know that being overweight can contribute to these conditions.
But did you know that being morbidly obese can also lead to liver disease and cancer?
A worldwide epidemic, fatty-liver disease is closely associated with obesity, which affects 80 million adults in the United States alone. Nonalcoholic fatty-liver disease (NAFLD) affects between 25 and 33 percent of the population and is the most common cause of chronic liver disease in the United States. Experts believe that NAFLD may become the most common cause of liver transplants within the next five years.
We don't have the repository of transplant organs that would be necessary to treat this magnitude of patients, and the problem isn't just fatty-liver disease, which can progress to cirrhosis and liver failure; it's the risk of liver cancer. About half of patients with cirrhosis from the progression of NAFLD will develop liver cancer within 10 years.
NAFLD is a condition in which fat builds up in your liver. As its name implies, it is not associated with alcohol consumption. Nonalcoholic steatohepatitis (NASH) is a type of NAFLD. If you have NASH, you have inflammation and liver cell damage, along with fat in your liver. This can progress to fibrosis, cirrhosis, and organ failure.
Usually, NAFLD and NASH cause few or no symptoms. Certain health conditions — obesity, metabolic syndrome, and type 2 diabetes — make you more likely to develop NAFLD and NASH.
Treatments for NAFLD and NASH are limited. There are no medications for it, but more studies are documenting the positive effects of surgery that was previously used solely for weight loss.
Metabolic/bariatric surgery provides benefits even before patients lose weight from having the surgery. The surgery effectively reduces inflammation that stimulates the disease processes in the liver and is the single most important treatment of NAFLD to prevent liver cancer and the need for liver transplant. We can halt and even potentially reverse disease progression in morbidly obese patients.
Metabolic/bariatric surgery also benefits obese patients with diabetes, often reducing or eliminating the need for insulin therapy.
Procedures commonly known as the sleeve and gastric bypass can benefit obese patients through more than weight loss. They change the metabolism and reduce inflammation, which can be life-saving.
Most people – including physicians – associate liver disease and cirrhosis with alcohol consumption or Hepatitis C. When routine blood tests show problems with liver function, physicians may overlook the causal link with obesity.
It's really important for patients to be aware of the association between their obesity and the potential for liver disease. We are also working to inform primary physicians, gastroenterologists and gynecologists about this link and the benefits of metabolic/bariatric surgery for these patients.
An individual is considered morbidly obese if he or she is 100 pounds over his/her ideal body weight, has a body mass index (BMI) of 40 or more, or BMI of 35 or more with obesity-related health conditions, such as high blood pressure or diabetes.
Laboratory tests and an ultrasound can also indicate that fatty-liver disease is present. In some cases, the doctor may perform a needle biopsy of the liver before surgery, or during surgery, a larger sample of liver tissue may be removed for testing.
A patient receiving the sleeve or gastric bypass usually stays in the hospital for two days, then quickly returns to normal activity.
With this type of procedure, the patient is up and around right away. This isn't the type of operation where we tell the patient to go home and rest.
Patients who undergo metabolic/bariatric surgery at Venice Regional also receive lifestyle and nutritional counseling and are encouraged to participate in a support group to manage their metabolism long-term.
Venice Regional is accredited as a Center of Excellence in metabolic and bariatric surgery by the Metabolic and Bariatric Surgery Accreditation and Quality Improvement program (MBSAQIP), Surgical Review Corporation (SRC), Blue Distinction (Blue Cross Blue Shield), CIGNA, and Optum (United Healthcare).
For more information on metabolic and bariatric surgery for fatty liver disease, please visit www.venicembs.com or call (941) 209-4646.
Joseph Chebli, M.D., FACS, FASMBS, is a Center of Excellence metabolic surgeon and chair-elect of Gov. Rick Scott's Diabetes Advisory Council. Dr. Chebli performs life-changing metabolic and bariatric surgery for obese patients at Venice Regional Bayfront Health.
Call 941.483.7978 or visit VeniceRegional.com