By CardioVascular Solutions Institute –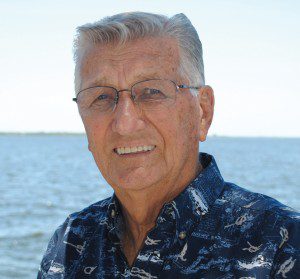 One day on the golf range, Ken Terry was excited to hear his friend mention that Dr. Gino Sedillo had opened an office in Bradenton.  Mr. Terry had recently gone to the ER for chest pain and was told he had AFIB. His heart rate was over 140.   It eventually came down and he was able to leave the ER, but they recommended he follow up with an Interventional Cardiologist.
Mr. Terry recalls, "As time passed, the chest pains intensified and became very sharp. My normal routine activities became painful and less enjoyable. I made an appointment with Dr. Sedillo and he took charge of my medications and dosages to ensure I was taking the best options for my individual case. He regularly monitors my response to the medication dosages and changes them accordingly."
Atrial Fibrillation (A Fib) is an irregular and often rapid heart rhythm. The irregular rhythm results from abnormal electrical impulses, in the upper chambers of the heart, causing the heartbeat to be irregular and usually fast.
A Fib is one of the very common heart rhythm disorders, affecting about 4% of the U. S. population. People over 40 have about a 25% chance of developing A Fib in their lifetime and the risk of developing A Fib increases with age.
For many people, A Fib may cause symptoms but does no harm. If treated properly, A Fib infrequently causes serious or life-threatening problems.
Many A Fib patients are treated medically with medications and may need to try more than one medication to find the one that works best for them.  Along with these medications many patients also need other drugs that are used to help patients avoid blood clot formation that may lead to strokes or additional heart problems. Atrial Fibrillation increases the risk of forming blood clots.
Symptoms of A Fib vary from person to person, some people have no symptoms, others experience one or more of the following:
. Severe shortness of breath
. Fainting or light headedness
. Very rapid heartbeat or palpitations
. Chest pain
. Weakness
. Low blood pressure
In determining a diagnosis, a patient's doctor will consider the severity of the symptoms and whether they are new or have been going on for some time.  Some patients are referred to a cardiologist/specialist in heart disorders.
For some patients, certain procedures may be necessary to treat A Fib. Some of those are: cardioversion, catheter ablation and pacemaker.
Mr. Terry didn't need a procedure, he was able to be treated medically with medications. Many patients with A Fib feel better and enjoy a better quality of life with medication alone.
"I truly feel better since being under Dr. Sedillo's mindful care. He and his team are extraordinary.  Marla, Dr. Sedillo's nurse, is the queen at being organized and following up and making sure I have all my questions answered. She helps me to ensure that I am moving forward with their recommendations and testing.  Stacy, the Physician Assistant at CardioVascular Solutions Institute, reminds me of my loving granddaughter.  She is kind and listens to my issues and is very reassuring. The whole team is friendly and truly cares about each and every patient."
Thanks to Dr. Sedillo and the health care team at Cardiovascular Solutions Institute, Mr. Terry is looking forward to getting back to being a little league baseball and hockey coach as well as being  active as a deacon in his church.
Dr. Gino Sedillo, M.D. F.A.C.C.     Born in Albuquerque, New Mexico, Dr. Sedillo is Board Certified in Internal Medicine, Cardiovascular Diseases and Interventional Cardiology, and has been a member of the American College of Cardiology since 1996.
After 15 years of training, Dr. Sedillo started working for the Bradenton Cardiology Center in 1995. While there he performed more than 1,000 procedures per year and he began teaching procedures and techniques to other practicing cardiologists, vascular surgeons, and interventional radiologists. He served as Director of the cardiac catheterization lab at Manatee Memorial Hospital.
Most recently, in May 2011, Dr. Sedillo founded his independent practice, CardioVascular Solutions Institute, with offices in Sarasota and Bradenton. Since then Dr. Sedillo has been named director of the Percutaneous Coronary Intervention program at Doctors Hospital in Sarasota.
When he's not seeing patients, teaching other physicians or doing clinical research, Sedillo cherishes time with his three children.
Call To Schedule Your Appointment Today!
(941) 747-8789
Source: www.emedicinehealth.com