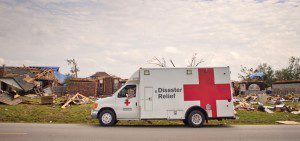 Every March, the American Red Cross celebrates Red Cross Month and the Tennessee Volunteer Region is urging all to get involved.
This March, the American Red Cross would like to recognize the nation's Everyday Heroes who reach out to help their neighbors when they are in need. These everyday heroes are our volunteers who help disaster victims get on the road to recovery. They give blood to help someone in the hospital. They brighten the day of an injured service member in a hospital far from home. They take our classes and step forward to help someone having a heart attack or to save a drowning child.
History of Red Cross Month
March is Red Cross Month is an annual proclamation that began in 1943 with President Franklin D. Roosevelt. For more than 70 years, all of our country's presidents, including President Barack Obama, have designated March as Red Cross Month to recognize how the American Red Cross helps people across the country and around the world.
Clara Barton and a circle of her acquaintances founded the American Red Cross in Washington, D.C. on May 21, 1881. Barton first heard of the Swiss-inspired global Red Cross network while visiting Europe following the Civil  War. Returning home, she campaigned for an American Red Cross and for ratification of the Geneva Convention protecting the war-injured, which the United States ratified in 1882. Barton led the Red Cross for 23 years.
Ways We Help
The Red Cross responds to nearly 70,000 disasters of all sizes big and small in this country every year. It provides 24-hour support to members of the military, veterans and their families – in war zones, military hospitals and on military installations around the world; collects and distributes about 40 percent of the nation's blood supply and trains millions of people in first aid, water safety and other life-saving skills.
Become a Part of the Red Cross
Red Cross Month is a great time for people to become part of the Red Cross. Red Cross encourages everyone to discover their inner hero by giving time to help a neighbor, make a financial or blood donation, work on a preparedness plan for your household so you will be ready for emergencies, become a vol- unteer or take a Red Cross class in First Aid and CPR.
The Red Cross is not a government agency and relies on donations of time, money and blood to do its work. An average of 91 cents of every dollar given to the Red Cross is invested in helping people in need.
Red Cross Month is observed in dedication of everyone who supports our mission. We are grateful to people throughout the nation for their generosity.
For more information or to find your local chapter, visit redcross.org.