By Greg Pascucci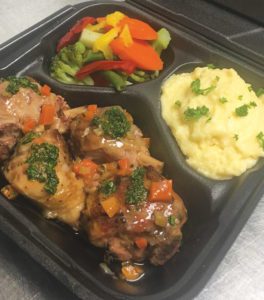 Proper nutrition can play a key role in boosting the immune system and keeping us healthy. At The Carlisle Naples, residents continue to enjoy a wealth of nutritious – yet delicious – meal options thanks to the talented culinary team, under the guidance of Executive Chef Marlon Perez.
The active retirement community remains vigilant in reducing the risk of spreading the coronavirus while ensuring the health and well-being of our residents and staff. As part of this community-wide effort, Chef Perez and his team have made adjustments to the dining program to adhere to social distancing guidelines and safety precautions. Working with the community's Health and Wellness (Zest) Department, they have reimagined The Carlisle's dining experience to offer residents freshly made, mouth-watering menu choices brought to their door with a smile.
"Delicious dining has long been one of the highlights of residents' day," explained Chef Perez, whose background includes serving as the Banquet Chef at the prestigious Mar-a-Lago in Palm Beach. "They rely on us to continue providing the mouthwatering gourmet options they enjoyed in our onsite restaurant."
Each day, he collaborates with the Zest team, charged with appealing to residents' mind, body and soul, to plan themed menu options, which are then delivered to via room service.
"Whether it's special surf n' turf dinner to celebrate Father's Day or freshly-baked pretzels for National Pretzel Day, we strive to create fun, memorable dining experiences for residents even as they self-isolate. "We're also mindful of dietary restrictions, using the freshest cuts of meats and incorporating seasonal fruits and vegetables. For example, a recent menu offered choices such as roasted beef tenderloin with au jus sauce, fresh mahi-mahi with a macadamia nut and herb crust and traditional black oak ham with pineapple and brown sugar glaze.
As June is National Fruit and Vegetable Month, Chef Marlon offers these tips for incorporating them into a healthy diet:
• Soups provide a great way to incorporate vegetables. Almost any vegetable lends itself to soup, from creamy squash or tomato bisque to vegetable beef or chicken vegetable soup. Add fresh or frozen vegetables to canned soups to increase the servings of vegetables and add flavor.
• Salads don't have to be lettuce based. Consider using leafy alternatives such as radicchio, arugula, kale or spinach. Also, kick up greens by adding fresh fruits like pineapple, mangoes, Asian pears, papaya or pomegranates.
• Don't overlook beans. They count as a vegetable and a protein. They can be added to everything from salads to eggs. While most people are familiar with common legumes such as chickpeas and kidney beans, other beans such as navy, soy and garbanzo are just as nutritious.
• Fruits can be incorporated into desserts. From strawberry shortcake to ice cream and pies, there are unlimited options for increasing your fruit intake with desserts.
• Be bold with your palate. It's not uncommon to grow tired of eating the same vegetables such as broccoli and carrots. Try giving your taste buds a boost this summer with seasonal produce such as okra, eggplant and callaloo (also known as tree spinach).
"Encouraging people to make better food choices starts by making these choices available," added Chef Perez. "At The Carlisle, residents can savor the flavors of fresh, healthy food choices year-round. Plus, our culinary team represents seven different countries. Often, the community's dining options reflect regional dishes, gourmet fare and specialty fruits and vegetables from other nations. It's dining that's not at all what you'd expect to find at a typical retirement community."
Located at 6945 Carlisle Court in Naples, The Carlisle offers spacious one-and two-bedroom residences, weekly housekeeping and flat linen services, basic cable TV, all utilities except telephone, and a complimentary full breakfast plus choice of lunch or dinner in the community's gourmet-style restaurant. For more information about the community, please call 239-221-0017 or visit www.TheCarlisleNaples.com.
Luxury Rental Retirement Living
6945 Carlisle Court, Naples, FL 34109
239-221-0017 . www.srgseniorliving.com