By Dr. Noël Crosby, Au.D. –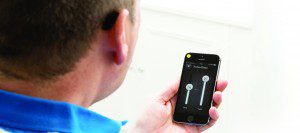 You knew it was inevitable, right? That it was only a matter of time before Apple®, famous for introducing new products and operating systems at lightning speed, addressed the needs of the millions of Americans who live with hearing loss. And now that Apple® has introduced its new iOS7 operating systems and the iPhone® 5s and 5c models, "Made for iPhone®" hearing aids now available.
"Made for iPhone®" hearing aids, currently available from several major hearing aid manufactures, provide 1) seamless connectivity between hearing aids and smartphones and 2) iPhone® accessibility to hearing aid setting, allowing the wearer to adjust the settings of their hearing aids from their iPhone®.
Starkey's "Made for iPhone®"  hearing aid is called the Halo™ and connects via the TruLink™ Hearing control App also available for free download in the App Store. In addition to Starkey, Oticon and Resound have announced that they also joined with Apple® to release "Made for iPhone®" technology. In April 2014 Oticon announced the launch of the upgraded Streamer Pro that will enable people who use Oticon wireless hearing instruments to connect to iPhone® via the Oticon Connectline App.
And these exciting developments appear to be only the beginning for Apple's® planned innovations. Recent patents applied for by Apple® include patents for:
• Technology to improve the audibility of phone conversations by minimizing background noise while improving clarity.
• A social network for hearing aid users that would allow hearing aid users a social media platform to share their unique hearing aid settings.
• Technology that would allow iPhone® to automatically detect whether or not the user is wearing a hearing aid, eliminating the need for an iPhone® user to manually switch the iPhone® to the "hearing aid mode".
Not an iPhone® user? You don't have to feel left out. Apps for other brands of smartphone devices offer a variety of features and benefits
For more information on "Made for iPhone®" hearing aids, please give me a call at Advanced Hearing Solutions at (941) 474-8393.
PROFESSIONAL BIO
Dr. Noël Crosby, Au.D., owner and practicing audiologist at Advanced Hearing Solutions in Englewood, FL is an experienced  professional whose career has been devoted to helping people of all ages hear and understand more clearly.
With over 23 years of experience, Dr. Crosby's career path is marked by the pursuit of advanced education.  After completing her undergraduate requirements, she received her Bachelor and Master of Science degrees from Florida State University and her Doctorate in Audiology from the University of Florida.
Her credibility as an authority grew during her tenure as the Director of Audiology at the Silverstein Institute in Sarasota, FL from 1991-1998. Today, in addition to managing a successful audiology practice, Dr. Crosby just completed her second term as president of The Florida Academy of Audiology.
941-474-8393  |  www.drnoelcrosby.com