By Greg Pascucci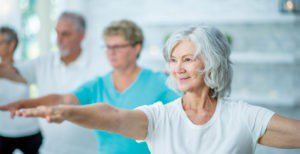 The New Year is synonymous with making resolutions—from quitting smoking to dieting to lose weight. For Elsie Fessler, a resident at The Carlisle Naples, an active retirement community, January is a great time for self-reflection to determine how to be a better version of herself.
"Unfortunately, when you make 'general' goals for the year, those plans don't last long," she said. "It's much better to look at your routine, figure out what is and isn't working, then determine if there are somethings that can be changed to improve your long-term health and quality of life."
Research supports Fessler's beliefs. A study conducted by the University of Scranton found that just 8 percent of people are able to keep their New Year's resolutions.
Fessler, who has lived in Naples for nearly three decades, is keenly aware of the role exercise plays in her overall health and is committed to continuing her fitness regimen in 2020.
"I was falling quite often," she explained. "Since moving to The Carlisle, I've taken advantage of the variety of fitness classes and improved my strength and balance. I've been so impressed with my progress."
The nonagenarian actively participates in the community's Yoga and Aquacise classes and credits the convenience of onsite classes with helping her maintain her independence and feel young—at heart and physically.
A study published in the Journal of American Medical Association revealed that in a trial of older adults, ages 70-89, those who exercised regularly "were less likely to have had an episode of physical disability" after 2.5 years.
"I used to go to the Wellness Center at Community Hospital, but it required quite a bit of effort," she said. "Here, everything is right outside my door. Fitness becomes part of my day-to-day routine and it's wonderful! The classes are truly healing for the body and mind."
Fessler's neighbor, Scott Bohon, concurs that a commitment to health and wellness should be continuous and year-round versus a short-term goal such as losing 10 pounds.
With a plethora of opportunities for physical fitness offered each week, Bohon is able to maintain his weight and health. He particularly enjoys the Tai Chi and balance and stretch classes. He also spends 30 minutes a day working out in The Carlisle's onsite fitness center.
Both Fessler and Bohon encourage older adults to commit to a healthier lifestyle in 2020, regardless of age.
"Starting a fitness regimen can be intimidating, but it's important to move and not sit around," advises Bohon. "Take the first step and build on that success."
Located at 6945 Carlisle Court in Naples, The Carlisle offers spacious one-and two-bedroom residences, weekly housekeeping and flat linen services, basic cable TV, all utilities except telephone, and a complimentary full breakfast plus choice of lunch or dinner in the community's gourmet-style restaurant. For more information about the community, please call 239-221-0017 or visit www.TheCarlisleNaples.com.
Luxury Rental Retirement Living
6945 Carlisle Court, Naples, FL 34109
239-221-0017 . www.srgseniorliving.com