By George T. Leamon, CLTC – Lutgert Insurance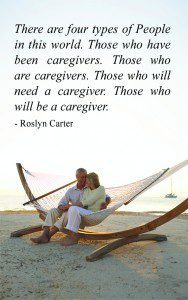 The baby boomer generation is becoming more aware that insurance plays a very important role in their lives. This could be one of the reasons why we are seeing an increase in the number of insurance agencies that are playing for our attention. Assisted living, rehabilitation, and life-altering illnesses are costly and can last for long periods of time. That is why it is just as important to plan for future health needs as it is for present ones.
We have all experienced the relief of using an automotive policy to repair a car. It seems that we only think of insurance as an asset when we need it. We live in a society that embraces the here and now! However, a future "here and now" can better be prepared for in advance. The main issue we have with spending money for something that hasn't happened yet is that it isn't tangible. We feel fine now, so why "waste" the money. It isn't happening now, so I would rather spend my money for an immediate gain. It is this thinking that gets so many of us into trouble. If we thought it through, paying for something in advance is the smartest thing we could do. The cost of an item in the future will undoubtedly cost much more than now. Think of inflation, alone.
Insurance makes even more sense. Take long term care, for example. Do you know what the true costs of an assisted living facility are for an extended period of time? Probably not. It is actually one of the top expenses that citizens face in their senior years. Being unprepared for that can be crippling. Assisted living centers are commonplace today, but that wasn't always the case. In the early days of our republic, asylums began to make an appearance. These institutions held people who were mentally incompetent or deemed "too old" to take care of themselves. In those days, the life expectancy of our nation's population was much lower than it is today. People in their forties or fifties were considered "senior citizens". Society has definitely evolved.
Accident insurance was first offered in the United States by the Franklin Health Assurance Company of Massachusetts in 1850. This was to protect workers on the railroad, but it slowly grew to include a variety of coverages. One of the coverages offered today is Long Term Care. This refers to the ongoing medical and social services that support the needs of people living with chronic health problems. Chronic health problems are a great financial burden on families, but Long Term Care insurance can relieve the stress that accompanies these situations. It is good to know that we have options that assist us through our senior years. Long term care insurance is one of those cushions for us to utilize.
Preparing for the future will only ensure that it is better.
For more information on long term care, please contact Lutgert Insurance at 239-280-3246. Or you can visit their website at www.lutgertinsurance.com.
George T. Leamon, CLTC |  239.280.3246
Blog: GeorgeTLeamon .com
www.lutgertinsurance.com