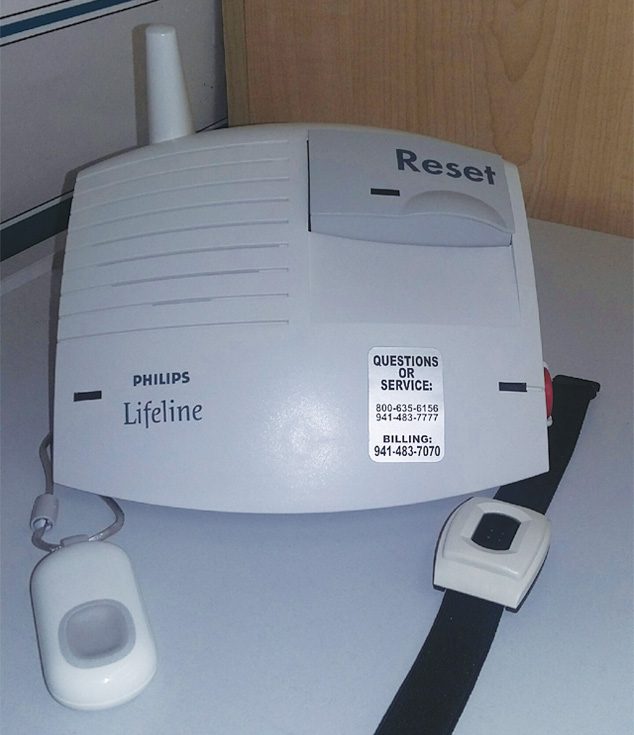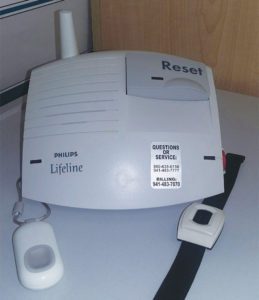 Over 13 million people ages 65 and older will have a fall this year, and more than half will not be able to get up on their own or reach a phone. Venice resident Linda Sparr is an active 77-
year-old who isn't medically at risk for falls, but living alone caused her to think about what could happen in an emergency.
As a volunteer at Venice Regional Bayfront Health, she learned about the Lifeline medical alert system and had one installed in her home by a volunteer from the Hospital Volunteers of Venice (HVV) nonprofit. Sparr wears the alert necklace when she's at home, even in the shower.
"I've never had to use it for an emergency, but it gives me peace of mind," Sparr said. "I've bumped it a couple of times and accidentally sent an alert. Someone immediately comes on the line to ask if I need help. It's reassuring."
Since 1988, team members of the local, non-profit program HVV Lifeline have installed and serviced Lifeline equipment at no charge for thousands of individuals in Sarasota, Manatee, Charlotte, DeSoto and Lee counties.
The proceeds HVV receives from a portion of Lifeline subscriptions goes back into the community in the form of scholarships, financial assistance for Lifeline services, and contributions to other local nonprofit organizations and their programs.
"HVV Lifeline services help increase safety and independence at home and help reduce the cycle of patients being readmitted to hospitals due to falls and the mismanagement of medications," said Kathy Schuck, Lifeline Program Manager for the HVV. "Our clients also like knowing that a portion of their monthly service fee is coming back to the community through charitable outreach by the HVV nonprofit."
Philips Lifeline offers several technology options, all with waterproof buttons.
The Personal Help button, which Sparr selected, is worn around the neck or wrist. You press the button if you need help. The Auto Alert is worn around the neck only and is designed to detect falls, without the user having to press a button.
The Go-Safe button works like a Global Positioning System (GPS). It's ideal for people who travel since it allows you to go anywhere in the United States. Like the Auto Alert, it has a fall detector that will call for help whenever or wherever a fall is detected. Go-Safe 2 works the same as the Go-Safe, but doesn't require a base unit. In addition to the monthly service fee, there is a one-time charge for the Go-Safe and Go-Safe 2 button.
HVV Lifeline volunteers install the technology in your home at no charge. Monthly service fees for the Lifeline service range from $30 to $50 per month, depending on the technology selected.
For Sparr, having the Lifeline service is well worth the money.
"I'm alone and it gives me a sense of safety when I'm in the shower because I've got my Lifeline on," she said. "I'm always talking it up and telling people how they should have it if they live alone."
For information about the HVV Lifeline program, call 941-483-7070.
Call 941-483-7070 or visit VeniceRegional.com