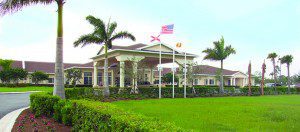 The city of Estero is a quiet city located between the popular destinations of Fort Myers and Naples. It is the perfect site for a Life Care Center of America facility. From nursing care, inpatient therapy and outpatient therapy services; Life Care has many great in-house care options. Their personnel truly understand the difficult decisions family members make in supporting their loved ones. One of the benefits of this facility is having a full time physician on staff.
This benefit improves the quality of care, because the residents are able to build a rapport with a doctor that knows their families and their lifestyle. When medical problems arise, it is always better to been seen immediately rather than having to wait or to be transported to the emergency room. The nurses and CNAs also enjoy the comfort of working side by side with a qualified physician on premise. Most physicians will tell you that having the chance to work intimately with patients and their families is a dream job. Welcoming a new physician into this environment is always exciting for Life Care Center of Estero. They are pleased to bring a highly respected member of his field. His name is Dr. Bianca and his credentials are ideally suited to his new position at the center.
Dr. Bianca earned his medical degree from the Autonomous University of Guadalajara, Mexico, in 1978. He completed his internal medicine residency in the United States at the College of Medicine and Dentistry of New Jersey-Rutgers Medical School in 1982. Certified by the American Medical Association, Dr. Bianca has experience as a hospitalist, medical director, medical advisor, emergency room physician, wound care physician and clinical instructor. He is also board certified in anti-aging and regenerative medicine. We are sure he will have some great insight for any residents that are especially interested in those last two fields.
When he is not taking care of patients,
Dr. Bianca enjoys swimming, reading and traveling. In June 2014, Dr. Bianca accepted this position with Life Care
Physician Services, LLC. This organization is dedicated to serving the medical needs of individuals living in health care facilities. As part of the Life Care Physician Services team, Dr. Bianca works alongside the nurses, dieticians, therapists and the
executive director to provide professional care to each of his patients.
While a resident at this facility, you may select the physician of your choice. Of course, Dr. Bianca would be pleased to serve as your attending physician. If you have any specific comments or questions, feel free to contact Dr. Bianca directly at (239) 495-4000.  Life Care Center of Estero is located at 3850 Williams Road. You may also visit their website at www.lcca.com/estero.