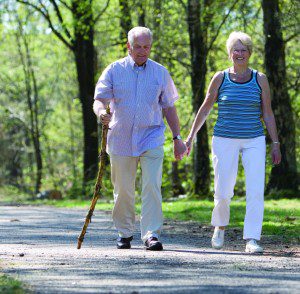 Many people assume that falling is just a part of getting older. But the reality is that falls are never normal—and there are steps you can take to prevent them from happening.
 
STEP 1: BUILD YOUR STRENGTH
Exercise can boost strength in muscles that help you stay balanced, such as those in your legs and core. Physical activities such as yoga and tai chi are great ways to build strength in these crucial muscles.
STEP 2: MANAGE YOUR MEDICATIONS
A number of drugs, including antidepressants, antihistamines, blood pressure medicines, pain relievers and sleep aids, have adverse reactions that can compromise your balance, whether by causing dizziness and lightheadedness or making you drowsy. Discuss new medications with a doctor or pharmacist to learn about potential interactions or side effects that could lead to falls. Follow dosage instructions closely to make sure you're taking medications correctly.
STEP 3: STAY WELL
A healthy, well-rounded diet can help you reduce your risk of high blood pressure, diabetes and stroke, all of which can lead to falls.
In addition, regular doctor visits can help you identify vision problems and conditions such as vitamin D deficiency that may make you prone to falls. According to the National Council on Aging, poor vision can make you twice as likely to fall than if you didn't have vision problems. Annual checkups also help you stay up-to-date on immunizations. Ear infections and upper respiratory infections, such as the flu, can cause inflammation of the inner ear, which can make you feel dizzy or off balance.
STEP 4: CREATE A SAFE ENVIRONMENT
Make your home easier to navigate. Remove trip hazards, such as throw rugs and clutter. Install good lighting throughout your home and handrails along staircases and next to bathtubs and toilets. Also, outfit your bathtubs with anti-slip mats or treads.
Don't take your balance for granted. The Center for Balance Disorders at Bayfront Health Port Charlotte is offering free individualized assessments with tips on ways you can improve balance. Call 877-686-CARE (877-686-2273) to register for an upcoming session.
WAYS TO EAT FOR BETTER BALANCE
1. Avoid high-salt foods. This reduces high blood pressure, a risk factor for falls. Salt can also exacerbate symptoms of Ménière's disease, which causes balance problems.
2. Drink more water. Low blood pressure is just as much a culprit in balance problems as high blood pressure. Counteract it by drinking plenty of water.
3. Cut down on alcohol and caffeine. Both can contribute to problems with blood pressure and, as with salt, they can worsen symptoms of Ménière's disease.
4. Boost calcium and protein intake. Calcium helps maintain bone density, while protein aids in muscle growth.
5. Eat the rainbow. Including a variety of fruits and vegetables helps maintain healthy blood pressure levels, and a healthy diet improves blood flow, which can improve your balance.