By Steven A. Meckstroth, MD – Gastroenterology Specialists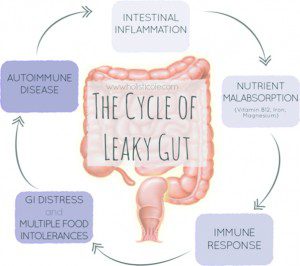 The gut is the gateway to health. If your gut is healthy, chances are that you're in good health. However, there's a condition called leaky gut that can lead to a host of health problems.
What is a leaky gut?
The gut is naturally permeable to very small molecules in order to absorb these vital nutrients. In fact, regulating intestinal permeability is one of the basic functions of the cells that line the intestinal wall. In sensitive people, gluten can cause the gut cells to release zonulin, a protein that can break apart tight junctions in the intestinal lining. Other factors — such as infections, toxins, stress and age — can also cause these tight junctions to break apart.
Once these tight junctions get broken apart, you have a leaky gut. When your gut is leaky, things like toxins, microbes, undigested food particles, and more can escape from your intestines and travel throughout your body via your bloodstream. Your immune system marks these "foreign invaders" as pathogens and attacks them. The immune response to these invaders can appear in the form of any of the nine signs you have a leaky gut, which are listed below.
What causes leaky gut?
The main culprits are foods, infections, and toxins. Gluten is the number one cause of leaky gut. Other inflammatory foods like dairy or toxic foods, such sugar and excessive alcohol, are suspected as well. The most common infectious causes are  intestinal parasites, and small intestine bacterial overgrowth (SIBO). Toxins come in the form of medications, like Motrin, Advil, steroids, antibiotics, and acid-reducing drugs, and environmental toxins like mercury, pesticides and BPA from plastics. Stress and age also contribute to a leaky gut.
If you suffer from any of the following conditions, you may have a leaky gut:
• Digestive issues such as gas, bloating, diarrhea or irritable bowel syndrome (IBS).
• Seasonal allergies or asthma.
• Hormonal imbalances such as PMS or PCOS.
• Diagnosis of an autoimmune disease such as rheumatoid arthritis, Hashimoto's thyroiditis, lupus, psoriasis, or celiac disease.
• Diagnosis of chronic fatigue or fibromyalgia.
• Mood and mind issues such as depression, anxiety, ADD or ADHD.
• Skin issues such as acne, rosacea, or eczema.
• Diagnosis of candida overgrowth.
• Food allergies or food intolerances.
How do you heal a leaky gut?
The good news is there's a solution to successfully healing leaky gut. There is a four-step process that includes:
Remove foods and factors that damage the gut.
Remove the bad. The goal is to get rid of things that negatively affect the environment of the GI tract, such as inflammatory and toxic foods, and intestinal infections.
The top foods to remove that cause leaky gut are sugar, grains, conventional meat, conventional dairy and GMO foods. The top toxic exposures to eliminate are tap water, pesticides, NSAIDS and antibiotics — but remember to always consult with your physician if he or she has prescribed these for you.
Replace with healing foods.
Replace the good. Add back the essential ingredients for proper digestion and absorption, such as digestive enzymes, hydrochloric acid and bile acids.
Rebalance with good bacteria.
It's critical to restore beneficial bacteria to reestablish a healthy balance of good bacteria. Friendly bacteria are important, and a well-colonized gut is vital to good digestive health. The good bacteria help abate the less-friendly ones, that lead to sickness and disease. Probiotics are an important way to re-introduce proper flora to the intestines. Proper diet, including fiber-rich foods also establish microfloral balance.
Repair with supplements.
There are many ways to repair and rebuild the intestinal cells and lining. Medical research continues to explore ways to advance this healing, naturally. Studies have shown glutamine is helpful for maintaining the structure and function of the intestine, and has been shown to improve damage from radiation and chemotherapy. Other therapies include methionine and N- acetyl cysteine, larch, kiwifruit, and zinc to aid in healing. It is important to work with a clinician to establish the best ways to treat and repair your digestive tract.
It is advised to consult with your doctor regarding the diagnosis of leaky gut. One thing you can do is monitor yourself and check if you suffer from the symptoms mentioned above. If you see that you experience most of them, you may have leaky gut syndrome but take note that some of the symptoms above can also be associated with other disorders.
For more infromation about colon cancer and would like to schedule an appointment to meet with one of our physicians, please contact our office at (239) 593-6201 or send an email with the subject "Colon Cancer" to gastro@gispswfl.com.