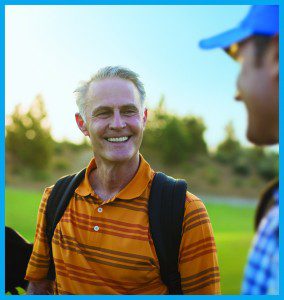 "LASIK changed my life" is something we often hear after LASIK. Imagine what it would be like to wake up and read your alarm clock or take a swim in the gulf without glasses. Whether you are nearsighted, farsighted or have astigmatism, we have a vision correction procedure that can improve the way you see the world.
What is LASIK?
LASIK is an outpatient procedure that uses a computer controlled "cool" laser to precisely reshape the cornea. The beam gently changes the curvature of the cornea so that images can more sharply focus on the back of the eye; thereby giving you clearer vision. The actual procedure takes less than 60 seconds and most patients report immediate visual improvement.
Look Before You LASIK
Choose your LASIK surgeon as if your sight depended on it…because it does!
The outcome and the safety of LASIK primarily depends on determining whether a patient is a good surgical candidate in the first place. The fact is that not everyone is a good candidate for LASIK. That's why it's so important to choose a surgeon that you trust to help you make the right decision.
Dr. Cathleen McCabe is a highly skilled cataract and LASIK surgeon with many prestigious awards. She was named on the PS250 List of the leading innovators in premium IOL cataract surgery and is a LASERVISION Top 100 Surgeon for her vast experience and excellent outcomes in LASIK and refractive surgery.
Dr. Brian Foster is a Fellowship Trained Corneal Specialist experienced in the latest innovations in LASIK and he brings the highest and most up-to-date level of training and knowledge to The Eye Associates. Dr. Foster is also on the cutting edge of other procedures such as corneal transplants, DSAEK, DALK and cataract surgery.
VISX® remains the industry leader in quality and innovation, and the VISX® Star 4 Laser that we use at The Eye Associates adds a new level of diagnostic information to insure superior surgical outcomes.
Our VISX® Star 4 laser has the following
unique safety features:
ActiveTrak™ 3D Eye-Tracking – One of the biggest concerns is the fear of moving the eye during the procedure. RELAX…We've got you tracked. The Visx® laser has ActiveTrak 3D Eye Tracking that detects and continuously compensates for eye movements, virtually eliminating any fear of human error.
VISX® Custom Vue WaveScan™ – WaveFront technology, developed from NASA space technology, allows us to capture and correct your eye's unique imperfections with 25 times more precision than could previously be detected using standard measurements for glasses. In fact, some Custom LASIK patients experience better vision than they ever did with glasses or contact lenses.
VISX® Exclusive SmartBeam™ – The SmartBeam technology adjusts the laser beam size according to treatment, minimizing the amount of corneal tissue that needs to be removed; reducing healing time.
Other Vision Correction Procedures
Some patients seeking LASIK discover that their corneas, although healthy, are too thin for LASIK surgery. There are a host of other advanced vision correction treatments, including Clear Lens Replacement, LASEK, PRK, and Epi-LASEK, that may allow patients who were told they were not candidates in the past to experience the same great benefits provided to millions worldwide.
Clear Lens Replacement (CLR)
Clear Lens Replacement is another surgical procedure designed to reduce or eliminate the need for glasses or contact lenses. Unlike LASIK that changes the shape of the cornea, CLR corrects your vision by removing the natural crystalline lens in the eye and replacing it with a new artificial lens. This is much like what happens in . However, in cataract surgery the removed lens, called a cataract, is clouded, whereas in CLR, the removed lens is clear.
Since Clear Lens Replacement is best suited for people over 50, the high tech lens implants are a great match for this procedure. Most people at this age begin to lose "accommodation" and their ability to focus from near to far without the need for reading glasses, bifocals, or progressive lenses. But now with the FDA approved high tech lens implants, The Eye Associates is able to offer patients the possibility of improving their vision to a level perhaps not experienced even before the surgery. AND once you have had CLR, you will never have to worry about getting a cataract and having cataract surgery.
The only way to find out which procedure would be best for you is to come in for an appointment with one of our experienced physicians who will carefully analyze your eyes. For a FREE LASIK or CLR Screening, call 1-866-865-2020 to schedule an appointment.
Toll Free: 1-866-865-2020
www.Sight4Life.com
WEST BRADENTON
6002 Pointe West Blvd
EAST BRADENTON
7230 55th Avenue East
SARASOTA
2111 Bee Ridge Rd
ELLENTON
7915 US Hwy 301 North
SUN CITY CENTER
3894 Sun City Center Blvd.